Wheelchair dancers add twist to innovative Bolshoi ballet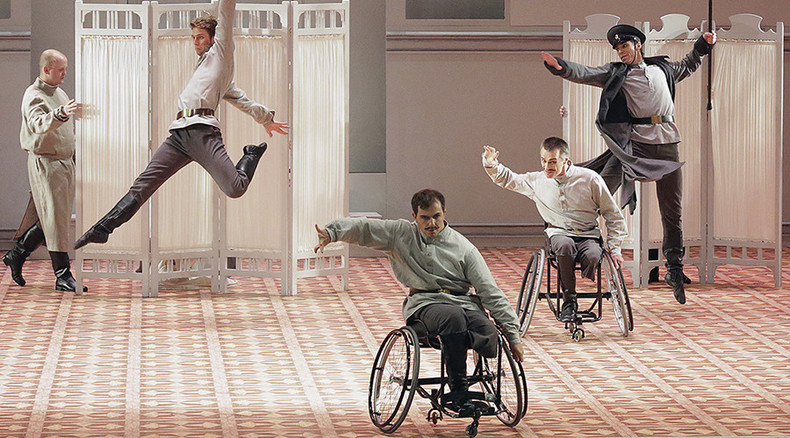 Moscow's Bolshoi Theatre has unveiled its world premiere of the 'Hero of Our Time' ballet, which features wheelchair dancers. The first ballet performance of the classic Russian novel by Mikhail Lermontov marked the end of the theatre season.
The ballet directed by Kirill Serebrennikov, an innovative theater and film director on the modern Russian cultural scene, premiered at the Bolshoi Theater on Wednesday. The two-hour performance marked the first ballet adaptation of 'A Hero of Our Time' novel by Mikhail Lermontov, a prominent Russian 19th Century poet and novelist.
For the first time, the Bolshoi theatre stage was graced by three wheelchair dancers from Russia's National Wheelchair Dance Sport team (RNWDS) – Maksim Sedakov, Sergey Poiunov and Evgeny Gusev – who performed the roles of wounded soldiers serving in the Caucasus mountains in the tsarist era.
While Serebrennikov already staged Nikolai Rimsky-Korsakov's opera 'The Golden Cockerel' at the Bolshoi in 2011, it was his debut directing a ballet.
"I want it to be beautiful and fair," he said. "Because ballet is not only a great illusion but also a powerful emotional statement."
The main choreographer Yury Possokhov, a former principal Bolshoi dancer, said that for him it was a pleasure to create this performance because it "tugs at the heartstrings."
Lermontov's novel features a Byronic main character – an officer in the Russian army, Grigory Pechorin, travels through the Caucasus mountains.
"I like Pechorin because he's a complicated, powerful, timeless, always thrilling, attractive but at the same time a quite repulsive character," Serebrennikov said. "Everyone will find similar traits in him."
The ballet adaptation includes three of the five parts of the original novel and features three soloists playing Pechorin during the course of the plot – Igor Tsvirko, Artyom Ovcharenko and Ruslan Skvortsov. Prima Svetlana Zakharova dances as Princess Mary, while starlet Olga Smirnova dances the role of Bela – the two women seduced by the Russian officer.
Composer Ilya Demutsky who was inspired by Prokofiev and Stravinsky said that his music is "very emotional on its own," adding that together with the "highly emotional ballet" he "can't say it will be easy."