Neo-Nazi Russian beauty queen causes social media stink, stripped of title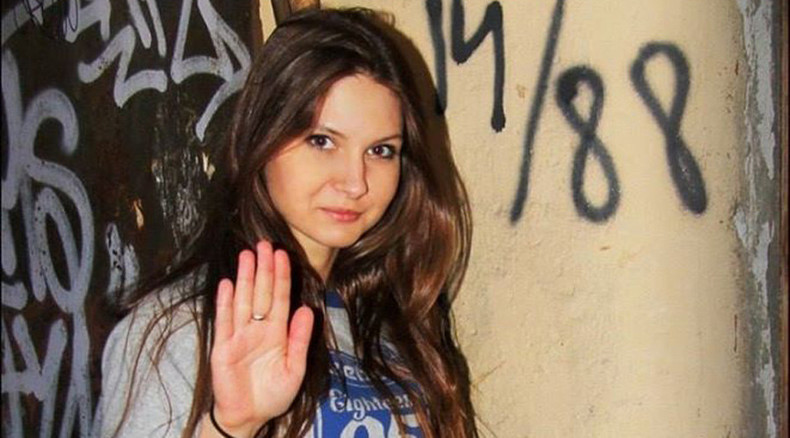 A beauty queen, recently crowned the Russian football league's Miss Charming, has been stripped of her coveted title after being exposed as a neo-Nazi on her social network account.
Olga Kuzkova represented CSKA Moscow in the Miss Russia Premier League beauty pageant designed for female fans. The 21-year-old didn't win the competition but was declared its most "charming" contestant.

Meanwhile, photos on her social media service VKontakte showed Kuzkova extending her right hand in a Nazi salute, as she stands in front of a wall awash with racist graffiti. Another picture showed a woman in a maid's outfit with a swastika armband, standing by a flaming hearth with the caption saying that both the Jews and peoples of the Caucasus "burn well." Kuzkova also posted photos of herself and her boyfriend kissing with the caption "White Love". Following the public outrage, she has deleted some of the embarrassing images.
The photos came under fire from CSKA fans and supporters.

"Olga, how could you represent a football club whose president is a Jew after saying you want to burn [Jews] in an oven?" a statement on the CSKA Fans Against Racism FB page said. "You should have joined some genuinely Aryan club, where there are no "khachi" [a derogatory term for natives of the Caucasus], "Jews," and blacks "monkeys".

The statement added: "Olga, you are not Miss CSKA, you are a disgrace to CSKA."
On Tuesday, the beauty contest's jury decided to strip Kuzkova of her title.

"We do not tolerate displays of fascism," Sergey Cheban, the executive director of the Russian Football League, told Sport-Express daily. "It's unfortunate that this happened. Nonetheless, I'm asking you to understand the situation, and the person. We all make mistakes in our youth and take the wrong path sometimes. Who is without sin? Some mistakes are easier to correct than others. I'd be glad if this story would help Olga to sort out her views."
But for the Russian FA to say they didn't hear or see any evidence of racism is beyond a Joke ...Glad it's all over dough thanks for support

— I AM FRIMPONG (@IAMFRIMPONG26) 22 июля 2015
Last week Emmanuel Frimpong, a British-Ghanaian midfielder for a team from the Russian city of Ufa, was sent off for raising a finger to Spartak Moscow fans. His reaction earned the 23-year-old former Arsenal player a red card as well as a two-match ban. According to Frimpong, he was subjected to monkey chants and gestured to supporters in response. But the Russian Football Union rejected racism allegations with the disciplinary committee finding no evidence of racism.
Frimpong, who apologized for his reaction, has uploaded video of the incident.

"We live in a crazy world," he lamented on Twitter.