Mexican prison chief, 6 other officials arrested over drug lord tunnel escape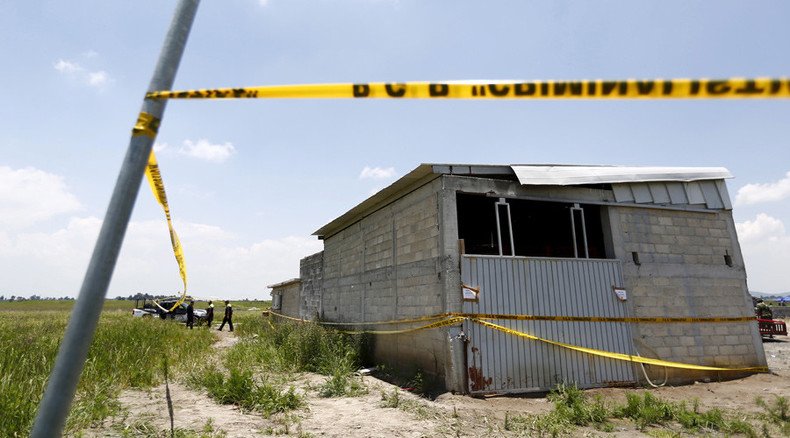 The Mexican Attorney General's office announced seven officials including Librado Carmona Garcia, the head of the maximum security prison, have been arrested over involvement in the jail break of drug kingpin Joaquin "El Chapo" Guzman.
Miguel Angel Osorio Chong, the Mexican interior minister, said: "Guzman must have counted on the complicity of prison personnel, which… would constitute an act of treason," the Telegraph reports.
Guzman's escape through a mile-long tunnel is a serious blow for President Enrique Pena Nieto and his war on drugs.
READ MORE: RT team relives infamous El Chapo drug lord's tunnel escape from prison (VIDEO)
Mr Pena Nieto who is currently on a visit to France says the authorities are doing everything to recapture Guzman as quickly as possible, step up the prison's security and, more importantly, investigate if any other prison workers helped him break out.
On the other hand, some experts say that the drug lord's accomplices could easily have done without help from "prison insiders". They needed only a GPS geolocator and Google's satellite maps available online to plan the breakout.
Joaquin "El Chapo" Guzman, the notorious boss of the Sinaloa drug cartel, whose capture last year was a major achievement for the Mexican government, escaped from the prison on Saturday.
READ MORE: Prison break: New footage released of Mexican drug baron's escape tunnel (VIDEO)
His cell was under 24-hour surveillance. However, for some reason the video camera watching over the notorious kingpin failed to record the moment he disappeared.
Soon after the breakout, a mile-long tunnel leading to a half built-house was discovered and the manhunt began with the authorities calling a state of emergency and shutting down a local airport.
Mexico's government is now offering a $3.8 million reward for the recapture of "El Chapo".
This is the second time Guzman has escaped from a maximum security prison. In 2001, he bribed prison officials and broke out by hiding in a laundry basket. Last year, Pena Nieto said if Guzman managed to escape again, "it would be more than unfortunate, it would be unforgivable."
Altiplano is one of the most fortified prisons in the world. It's near Toluca, an hour's drive from Mexico City and is known for its motion sensors, hidden microphones and a 24-hour network of video surveillance cameras.
You can share this story on social media: