Summer of Soviet classics: Marquee movies for homeless open in Moscow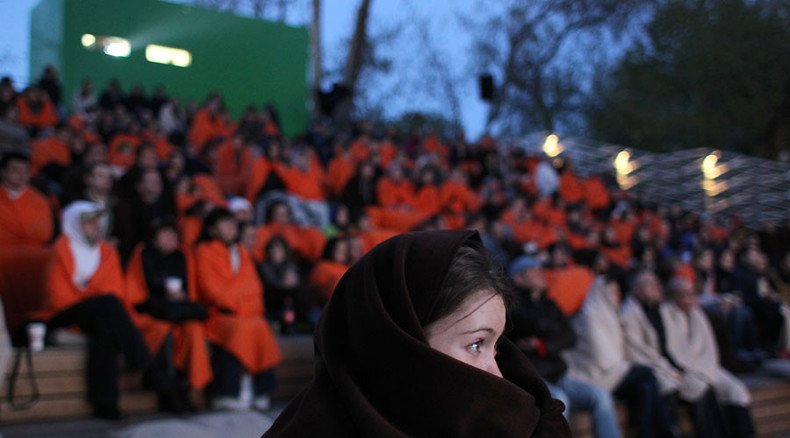 A good laugh and a free hot meal will be provided to those living on the streets of the Russian capital, a Moscow charity has declared. The group has opened a makeshift cinema for the homeless, and chose a Russian comedy classic for its first screening.
Around a hundred people of all ages flocked to a tent near the Yaroslavsky train station in Moscow where a 1965 slapstick comedy, "Operation Y and Shurik's Other Adventures," was displayed for free. The audience got what they came for – a good laugh.
Homeless people themselves requested that this particular Soviet movie classic be shown, as "they, probably, often watched such films during carefree youth or childhood when everything was OK," Natalia Markova from Friends on the Streets, the charity which organized the makeshift cinema with the help from city authorities, said.
The tent cinema was erected next door to an emergency assistance center for the homeless.
This 'premiere' was preceded by hot meals and tea handed out to the audience as well as a discussion of problems facing people living out in the streets in Moscow.
The cinema will show at least one movie every month in order to "diversify the traditional format of providing social assistance," Makarova said.
She added that the homeless audience will be free to choose the next movie they will see.
The cinema is not the only project the volunteers' group has come up with. They have also launched a hair salon for the homeless, and plan to organize a football match for them this coming weekend.
"More than anything we have a dream to change attitudes towards homeless people, because they are often abused and mistreated, and it is very hard for them to live," Markova explained.
According to the 2010 census, there are 6097 homeless people in Moscow, but experts believe that the actual figure could be ten times bigger.
You can share this story on social media: