Blazing anger: Striking ferry workers block Calais terminal with burning tires (VIDEO)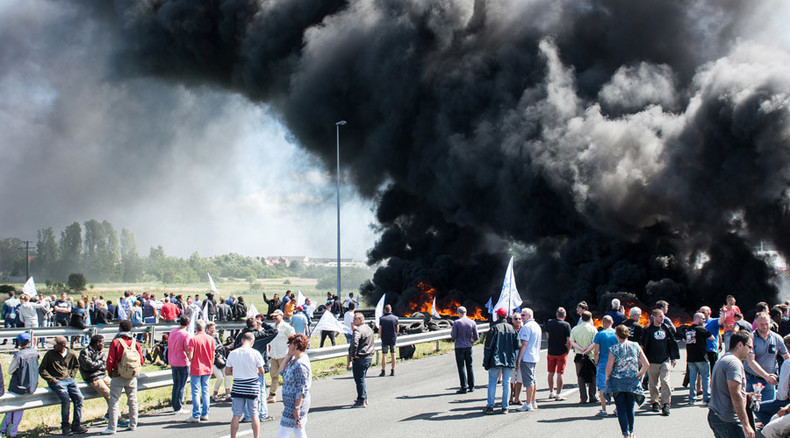 Striking employees from MyFerryLink have started a huge fire, which is blocking the motorway leading to the Channel Tunnel entrance in Calais. They are protesting against job cuts.
Huge black clouds of smoke were seen billowing over one of the main roads leading to the Calais port on Tuesday as French ferry workers burnt tires near the entrances to the Tunnel terminal.
"The protesters went on to the motorway and started burning tires at the two entrances to the Channel Tunnel terminal," Eurotunnel said in a statement.
"The protesters have now left of their own free will - it didn't look as if the police removed them," he added.
The blockade organized by the Syndicat Maritime Nord union ended at about 12:00pm BST – hours after the union activists had set the tires on fire – however, the road remained closed as repairs had to be made.
While Eurostar said its services were not impacted, the Eurotunnel still urged travelers to reschedule their journeys to avoid delays and other inconveniences.
The strike led to delays up to one hour to freight Eurotunnel services at Folkestone and up to 30 minutes – on P&O ferry services.
READ MORE:Arrests, clashes & arson mar Bastille Day celebrations in France
Meanwhile, Eric Vercoutre, a Syndicat Maritime Nord union spokesman, has announced that the union plans another strike for Tuesday.
The ferry workers conducted several strikes last month in anticipation of job cuts at the Calais port. The expected cuts are linked to Eurotunnel's selling off of its ferry service to Denmark's DFDS, which was announced in early June.
The Tuesday strike was aimed at urging the French government to reverse the Eurotunnel's decision to abandon the service, Dispatch Times reports.
Repeated ferry workers' strikes have led to an increasing unrest in the port and constant traffic disruptions over the last three weeks.
READ MORE:'You're killing us': French farmers dump manure, block roads to protest low meat & milk prices
At the same time, thousands of migrants camped out near Calais took the advantage of the traffic jams caused by the strike and tried to board vehicles heading for the UK with lorry drivers claiming they have been repeatedly attacked by migrants seeking to cross the Channel and get to Britain.
The ferry workers' strike comes amid another separate protest nearby staged by French farmers who blocked the roads leading to the popular tourist town of Mont Saint-Michel as well as to several other Normandy towns, including Caen and Evreux, for the second day.
They are dissatisfied with milk and meat prices which they claim to be too low, so they demanded a better deal, using dozens of tractors to set up road blockades.