'We see movement of military hardware away from contact line' – OSCE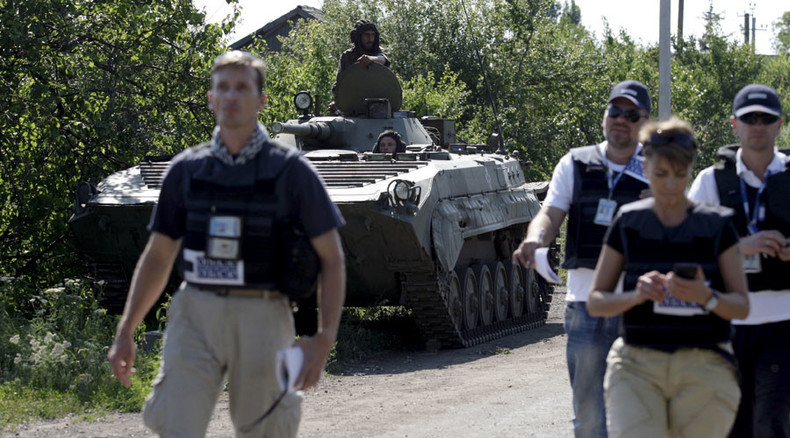 OSCE Special Monitoring Mission in Ukraine confirmed that it had seen weapons being withdrawn from the front line in eastern Ukraine on Monday. However, the mission needs "additional information" in order to verify the move, an OSCE official told RT.
"What we see at the moment is a movement of military hardware away from the contact line," Deputy Chief Monitor of the OSCE Special Monitoring Mission to Ukraine Alexander Hug told RT on Monday.
READ MORE: E. Ukraine rebels withdraw lighter weapons from front line
To provide "an actual verification of a withdrawal," the monitors need "to be provided with additional baseline information, in order to be sure that weapons are not just being moved around, but are actually withdrawn, and remain withdrawn," he added.
Saying that it was "up to the sides to put action behind their words," Hug said that OSCE would welcome "a reciprocal action on both sides" of the conflict. "This type of disengagement is required in all of the hotspots," he added.
On Saturday, anti-government forces in the Donetsk and Lugansk regions in eastern Ukraine announced their unilateral decision to move lighter weapons, up to 100 mm caliber no less than three kilometers (almost two miles) from the front line. The OSCE-monitored withdrawal started on Sunday, with over half of such weapons having been pulled back by Monday evening, according to spokesperson of the Donetsk People's Republic (DNR) Eduard Basurin.
The rebel forces plan to completely fulfill such weapons and military machinery withdrawal from the front line by Tuesday, Basurin said.
At the same time, Kiev continues to build up armaments closer to the confrontation line, the DNR spokesperson said on Monday, citing information provided by its reconnaissance units.
"We have our doubts whether the forces from the Ukrainian side will be withdrawn the same way as the rebel side did it," former German deputy minister of defense and former OSCE deputy head Willy Wimmer told RT. Saying that the "overall atmosphere in the country is complicated," actions of its government and president Poroshenko "are totally counterproductive," he added.
READ MORE: Ukrainian forces shell Donetsk: 1 civilian killed, hospital hit (PHOTO, VIDEO)
"There is no need for warmongering in Europe," the German politician said.
On Saturday, the center of Donetsk was shelled by Ukrainian forces, with the attack hitting residential blocks and a hospital, injuring its patients. One civilian was killed in the shelling, which was said to be the worst launched at the city of Donetsk in recent times. Weapons over 120mm caliber were reported to have been used in the attack by Kiev army. According to Minsk agreements, such heavy weapons should have been withdrawn at least 50 kilometers from the front line.
"All type of weaponry was used. Tank fire was used – that is direct fire, and indirect fire from different calibers of artillery, up to very heavy artillery," OSCE's Alexander Hug told RT, adding that the monitors assessed the use of 152 mm weapons as well.
You can share this story on social media: