Iran's opposition to 'arrogant' US won't change despite nuclear deal – Khamenei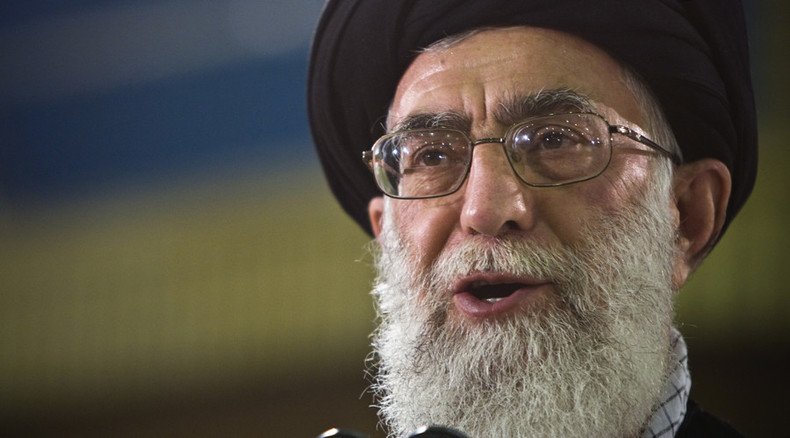 Iran's supreme leader, Ayatollah Ali Khamenei says that Tehran is still at odds with the United States over its policies in the Middle East and that it won't change its attitude to Washington, even despite a nuclear deal being reached.
"Whether the (nuclear) deal is approved or disapproved, we will never stop supporting our friends in the region and the people of Palestine, Yemen, Syria, Iraq, Bahrain and Lebanon. Even after this deal our policy towards the arrogant U.S. will not change," he said, as cited by Reuters.

Khamenei made it clear that discussing Iran's nuclear program with the US should be regarded as an exception to the rule.
READ MORE: Skeptics, snapbacks & Netanyahu: How Iran nuclear deal could still be derailed

"We have repeatedly said we don't negotiate with the US on regional or international affairs; not even on bilateral issues. There are some exceptions like the nuclear program that we negotiated with [the] Americans to serve our interests. US policies in the region are diametrically opposed with Iran's policies," the country's supreme leader added.
Five US presidents since the Revolution have either died or been lost in history wishing to make Iran surrender; you are also like them!

— Khamenei.ir (@khamenei_ir) July 18, 2015
In his address that marked the end of Muslim holy month of Ramadan, Khamenei also urged the Iranian government to study the deal carefully to make sure national interests are secured.

"The Americans say they stopped Iran from acquiring a nuclear weapon. They know it's not true. We had a fatwa (religious ruling), declaring nuclear weapons to be religiously forbidden under Islamic law. It had nothing to do with the nuclear talks," Khamenei mentioned.
READ MORE: As Iran nuclear deadline passes, narrative battle heats up (Op-Ed)

Khamenei's tough rhetoric aimed at the US came several hours after the White House stated that there are still military options available against Iran.

The supreme leader slammed Washington, saying that "Iran doesn't welcome war, but if it happens, the violator America will be humiliated."
US pres. said he could knock out Iran's army. Of course we neither welcome, nor begin war, but in case of war, US will leave it disgraced.

— Khamenei.ir (@khamenei_ir) July 18, 2015
The nuclear deal was agreed on Tuesday, and it stated that sanctions against Iran would be removed step-by-step, if the country accepts long-term curbs on its nuclear program.
LISTEN MORE:
You can share this story on social media: