The future is now: 'Weird hotel' in Japan employs robot staff to save costs (VIDEO)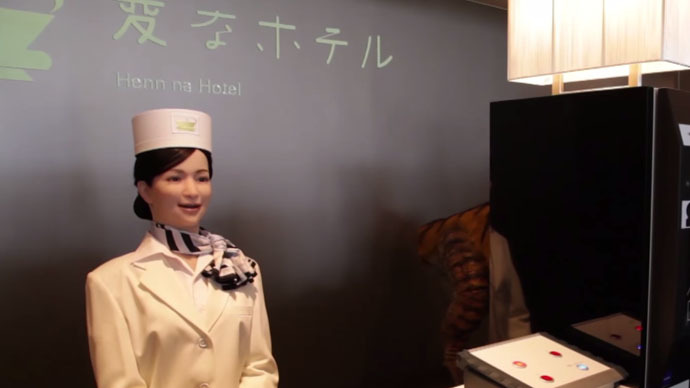 At Japan's Weird Hotel you can choose between a dinosaur robot and a female humanoid at check-in, proceed to an automated porter, and then relax as a drone serves snacks. The daring idea was actualized in a Japanese amusement park to save on labor costs.
READ MORE: Robot wars: Japan agrees to fight America in giant 'Battlebots' duel

Called Henn na Hotel in Japanese, the hotel is almost completely manned by robots. It is now preparing to open its doors to its first bunch of visitors on Friday in the Huis Ten Bosch amusement park, located in Sasebo in southwestern Japan.
While a dino receptionist does the check-in and check-out for English-speaking visitors, a female android resembling a remote ancestor of the robotic servant from the "Humans" TV-series welcomes guests in Japanese. They are accompanied by an automated trolley that takes guests' luggage to their room. A transparent locker system, called a "robot cloak room," features a giant industrial-looking robotic arm.
During check-in, visitors still have to type in information on a touch panel screen. They will also have to get used to facial recognition technology replacing standard electronic keys.

READ MORE: Pepper first emotional humanoid robot to be sold in Japan for $1,600

The virtual concierge, a doll-like robot with voice recognition, is responsible for reminding guests of breakfast time and scheduled events. Moreover, there is a lamp-sized robot in every room, nicknamed Tuly for its fat, pink tulip shape, which can provide information on time and weather, turn the lights on and off, and even give guests a wake-up call.

But "they still can't make beds," said president of HTB company, Hideo Sawada, as cited by AP. "I wanted to highlight innovation. I also wanted to do something about hotel prices going up."

He added that the introduction of robots served as a drive in creating "the most efficient hotel in the world" with the help of cutting-edge technology. Sawada hopes that his robots will soon be able to master the Chinese and Korean languages. He also has plans to open another hotel abroad.

READ MORE: Internet goes mad as Sarah O'Connor tweets news about killer robot at VW plant
The cost for a single room in the two-story hotel starts at 9,000 yen ($73) with the most expensive costing 14,000 yen ($113), a giveaway price for Japan. The hotel has an online auction system and is significantly cheaper than other local hotels in the Holland-themed park with rates starting at around 20,000 to 30,000 yen.
Do you think Japanese theme park Huis Ten Bosch is considered cultural appropriation? #SJWLogic@Rydia44@TurboBorgpic.twitter.com/k7mDWyX22H

— Angela NotYourShield (@angeladavis003) July 10, 2015
All 72 rooms of Henn na Hotel, which have modern minimalist looks, were designed by Yoshiyuki Kawazoe, associate professor at the Institute of Industrial Science in the University of Tokyo.
READ MORE: Robot revolution by 2020? Japan launches pro-robot campaign

You can share this story on social media: