France blasts: Foul play suspected as 'electronic device' found at the scene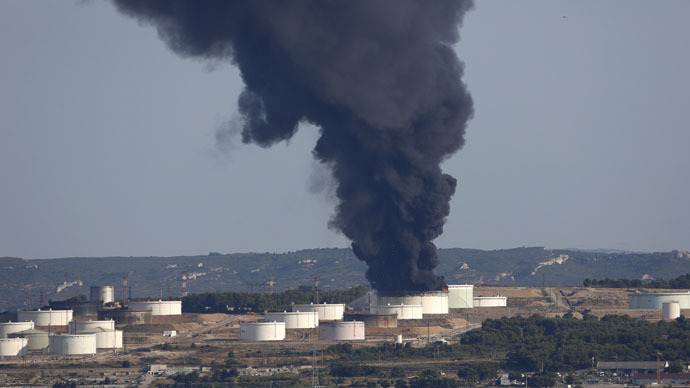 An electronic device has been discovered by investigators next to a petrochemical facility in southern France, where two tanks caught fire on Tuesday. Sources say it might confirm earlier suspicions that the blaze was started on purpose.
"The simultaneous explosion of the tanks, which are spaced about 500 meters from each other, is not the result of a technical accident. The thesis of criminal intent is clearly being considered," an anonymous source told Reuters.
The device is now being analyzed to find out if it could have started the fire, police officials told Liberation.
READ MORE: 2 blasts rock oil refinery in southern France 10km from Marseille Airport
This follows, an announcement by French interior minister Bernard Cazeneuve on Wednesday, for a major increase in security at industrial sites across the country.
A total of 1,171 locations have been deemed sensitive, meaning that an accident could trigger immediate and serious consequences. These sites have been given increased protection.
The twin explosion, which resulted in a fire, took place at the petrochemical plant in Berre-l'Etang near the Marseille-Marignane airport on Tuesday.
Plumes of thick smoke could be seen for kilometres from the blast site.
Firefighters were able to tackle the blaze at the first tank relatively quickly, but it took them a few hours to extinguish the second one, according to the local authorities.
The tanks were filled with petrol and naphtha, a highly flammable liquid, which is distilled from petroleum.
The plant is operated by the chemical firm LyondellBasell, which said the fires were not toxic.
You can share this story on social media: