Trailer with 16,500 liters of gasoline explodes in Norway underwater tunnel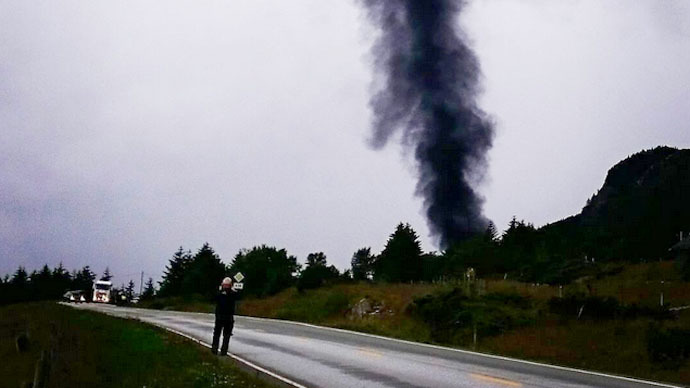 A petrol tanker trailer has detached from its truck in a tunnel in Bremanger and exploded after 16,500 liters of gas were released. The driver managed to escape the inferno as the truck had already managed to detach from his load.
The incident took place at the Skate Saraum tunnel that partially goes underwater. A petrol tanker was travelling through the tunnel and the trailer became dislodged from the truck, which continued to drive down the road. The trailer then crashed and exploded, after thousands of liters of gasoline had been split.
The driver of the tanker Tore Myrestrand told a local newspaper that while travelling through the deepest part of the tunnel, the trailer detached from the truck. He saw that the detached tanker began to hit the rocky wall and that gasoline began to spill out.
He carried on driving the truck up the tunnel, and proceeded to block off the road to ensure that cars travelling in the opposite direction would be kept safe.
I #SognogFjordane er Fv 616 Skatestraumtunnelen i Bremanger stengt pga en eksplosjon. #NRKTrafikk (Foto: NRK-tipser) pic.twitter.com/K3E10F5lmt

— NRK Trafikk (@NRKTrafikk) July 15, 2015
Quirinius Theodorus Adrichem, who witnessed the incident, said he was travelling through the tunnel when the explosion occurred. He told TV2 that he met the driver who said, "You must go out! Out! Out! Gas is leaking."
There had been fears that the tunnel could partially collapse because of the blaze. So far there have been no evidence of somebody missing in the tunnel. Three people have been brought to hospital after inhaling burning gasoline. Several people have been evacuated from nearby houses, local media reports.
Local police say that there is so much water inside the tunnel that it is impossible to enter the area where the explosion occurred. The fire department has pulled all its crews out of the tunnel.
The tunnel connects Bremanger and Freya to the mainland and is 1,890 meters long and it runs 91 meters below sea level. The area is located around 550 kilometers north west of the capital Oslo. In 2007, the tunnel was partially closed because of a minor rockfall, but there were no casualties.
Skatestraumen. Brann i tunnelen. #nrksf #bremanger #vestlandsrevyen

A photo posted by Linda Helen Kulen Nygård (@shiba_linda) on Jul 15, 2015 at 2:53am PDT
DETAILS TO FOLLOW
You can share this story on social media: