Outrage grips Bangladesh over video of boy beaten to death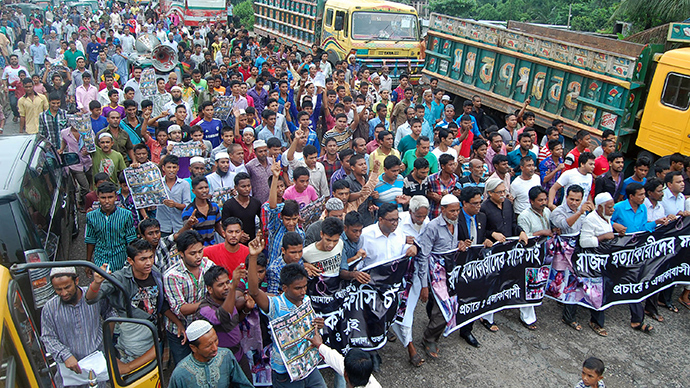 Thousands flooded the streets of Bangladesh demanding justice for a boy who was tortured to death by a mob. The incident, captured on camera, has also raised indignation on the web, with massive support for petitions urging prosecution of the culprits.
The video of the incident, which happened in one of the country's biggest cities in the north-eastern part of Bangladesh, was taken by the laughing attackers themselves and uploaded to YouTube and Facebook on Sunday.
Arrest all the killers! Raise your voice to demand #JusticeforRajon now! Sign & RT! https://t.co/wOrqACBzqN

— nazmul. (@nazmul42031132) July 14, 2015
Mass demonstrations have been ongoing in Bangladesh since Monday with protesters forming a human chain around the house of the victim's family in the city of Sylhet and walking in a procession in the city's Kumargaon district.
Jamaat-e-Islami leaders provide financial assistance to the victim family of Rajon #JusticeForRajon#savebangladeshpic.twitter.com/41CdqUMM2E

— Ali Ahmad Mabrur (@Mabrur00) July 14, 2015
Several mass protests also took place on Tuesday in the towns of Tukerbazar and Moulvibazar north-east of Bangladesh and Satkhira in the south-west of the country, where people again formed human chains expressing their anger and outrage over the brutal killing.
Truly heartbreaking and sickening. Those disgusting men have no hearts whatsoever. They deserve brutal punishment. #JusticeForRajon

— aisha (@lifeofaisha) July 14, 2015
Society in #Bangladesh has been brutalised & traumatised by Hasina & #Shahbag & #Awami thugs. #Rajon#JusticeForRajonpic.twitter.com/wfuOJqOUN4

— Free Bangladesh (@freebangladesh) July 13, 2015
Similar demonstrations were organized in the country's other major cities, including the capital Dhaka.
Protest against the brutal murder of 13-year-old Rajon, tomorrow (Monday) at Shahbag, at 3:30pm. #JusticeForRajon via @saifkamal

— Samira Sadeque (@Samideque) July 12, 2015
A cohort of Bangladeshi lawyers urged that no one provide any legal assistance to the killers and called for the immediate arrest of those accused of the murder, Bangladeshi NTV channel reports.
If the punishment for stealing is being killed then what's the punishment for killing another human being? #JusticeForRajon

— ♡ S H E E M A ♡ (@SheemzB) July 14, 2015
We know the pain #Bangladesh. Not long ago did we lose two in the same way. #JusticeForRajon #JusticeForTheSialkotBrothers

— Farzana Abdullah (@farzana_a) July 14, 2015
Several online petitions have also been launched calling on the Bangladeshi authorities to "take immediate steps to catch all the criminals" and "to punish every accused perpetrator with the highest punishment possible." By now, the most popular petition was signed by almost 14.000 people just in two days.
A page on Twitter as well as a hash tag #JusticeForRajon were also created in memory of the boy.
Barbaric murder
Samiul Alam Rajan, 13, was beaten to death by several men who accused him of stealing a rickshaw van in the city of Sylhet's Kumargaon district on July 8. One of the attackers filmed the incident "for the whole world to see," according to the Bangladeshi BDNews24.
I tried a few times, but couldnt gather enough courage to watch the video. I am losing faith in humanity. #JusticeForRajon#Bangladesh

— Nazmul Haque Hirok (@hiroktweets) July 12, 2015
The 28-minute video shows the boy tied to a pole in a shop in the Sylhet market with his left hand and right leg being twisted, and his head, stomach and nails being hit with a stick, as the attackers apparently try to make him confess to the theft. The boy's screams only prompt laughter from the attackers; one of them suggests to "beat him some more" as "his bones are apparently intact."
If the punishment for stealing is being killed then what's the punishment for killing another human being? #JusticeForRajon

— ♡ S H E E M A ♡ (@SheemzB) July 14, 2015
After the boy died, one of the murderers took his body to a secluded dump in a minibus, BDNews24 reports.
I don't think we as humans will be able to punish Rajon's inhumane murderurs enough. Let's leave it to Allah SWT #JusticeForRajon

— łeeмα вegυм ɴσσя (@Trillestt98) July 14, 2015
An autopsy revealed that Samiul died of a brain hemorrhage after suffering serious head injuries. More than 60 marks of trauma were found on his body.
Justice has to be served, no matter what. #JusticeforRajonpic.twitter.com/ecayDYtOS2

— JAAGO Foundation (@JAAGOFoundation) July 13, 2015
The boy's father, Sheikh Azizur Rahman, a minibus driver, told the Dhaka Tribune that the boy had not been a thief and had only been trying to support his family. The boy had studied at a local primary school up to grade four before dropping out and becoming a vegetable vendor.
"Everyone in this area knows that my son was not a thief. I want justice for him," said Rajan's mother, Lubna Akter. On going to the police to report the boy missing, she discovered that the boy's body, which she identified, had been already found.
Investigation of the killing
Five men have been accused of Rajan's murder and placed under arrest: Muhith Alam, 22; his brother Kamrul Islam, 24; his cousin Ismail Hossain Ablus, 32; Ali Haider, 34; and Moyna Mia, 45. Locals reportedly caught Alam as he was trying to hide the body and turned him over to the police on July 8. His cousin Ismail was arrested on Monday, July 13.
According to the Bangladesh foreign ministry, another suspect, Kamrul Islam, was arrested in Jeddah, Saudi Arabia, also on Monday. He fled there soon after the murder, and will soon be brought back by Interpol, as reported by the Telegraph.
I can't believe this is happening during the 21st century. Capital punishment is not enough to punish such people. #JusticeForRajon

— AL-Akkaoui (@mohammadakawi) July 14, 2015
Bangladesh's Home Minister, Asaduzzaman Khan Kamal, called the killing "a sad and unfortunate incident," BDNews24 reports. Local police chief, Akhter Hossain, named it "a brutal and heinous murder," adding that the police "won't spare anyone."
A special tribunal will try the murderers, NTV reports, citing Bangladeshi Deputy Commissioner Joynal Abedin.
Brutal murder of 13yr old in Bangladesh - children must be protected in all spheres. Govt must lead. #JusticeForRajon

— Juwel Goni ❤️ (@Juwelgoni_) July 14, 2015
The boy's family has been given a sum of 20,000 Bangladeshi takas ($260) by the local administration, and Abedin, Sylhet Metropolitan Police Commissioner Quamrul Ahsan and other high ranking officials have visited the victim's family house to express their condolences, NTV reports.