​NASA's New Horizons spacecraft speeds past Pluto in closest-ever approach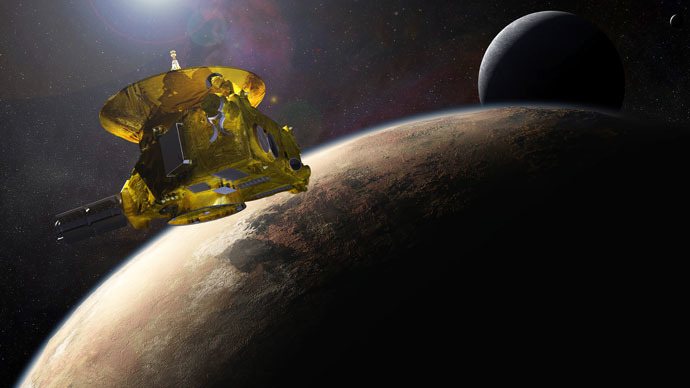 After nine years and 3 billion miles, NASA's New Horizons spacecraft has breezed past Pluto, marking the first-ever close-up encounter with the dwarf planet. The historic flyby will provide long-awaited photos and data – assuming all went well.
Traveling at a speed of 30,800 mph (almost 50,000kph), New Horizons flew past Pluto at a distance of 7,750 miles (12,472km) – closer than any spacecraft has ever come, the US space agency said on Tuesday. Besides the equipment, the spacecraft is carrying part of the ashes of American astronomer Clyde Tombaugh, who discovered Pluto in 1930.
While that may not seem incredibly close, it's a pretty remarkable journey considering Earth is 3.6 billion miles (5.8 billion km) away from the dwarf planet.
A photo posted by RT America (@rt_america) on Jul 14, 2015 at 8:09am PDT
In fact, it took New Horizons 3,463 days and 2.97 billion miles to reach its destination, traveling for an impressive nine years to do so.
NASA confirmed the flyby on Twitter, stating that it took place at 07:49 ET (11:49 GMT).
YES! After over 9 years & 3+ billion miles, @NASANewHorizons#PlutoFlyby was at 7:49am ET. http://t.co/Czrvonxugdpic.twitter.com/aSucgORofT

— NASA (@NASA) July 14, 2015
But the space agency is unable to confirm more until New Horizons 'calls home' again.
Scientists are holding their breath until approximately 20:53 ET (16:53 GMT), when New Horizons is expected to check in with Earth and begin transmitting equipment updates. This is essentially the spacecraft's way of saying it's doing just fine.
"We will learn in a general sense if the spacecraft is healthy," mission operations manager Alice Bowman said.
But New Horizons can't send that highly-awaited message just yet, because it's simply too busy snapping photos and making observations to send a message to Earth.
And when it does finally send that message, it will take four-and-a-half hours for it to make the journey from Pluto to Earth.
Until then, scientists are crossing their fingers that everything is fine up in space, and that New Horizons hasn't run into a stray piece of debris (there is a one in 10,000 chance of this happening).
What shape is Hydra? Coming out of Charon's shadow, I'll capture high phase angle imaging to find out. #PlutoFlybypic.twitter.com/WSgC8kvXKn

— NASA New Horizons (@NASANewHorizons) July 14, 2015
"Because New Horizons is the fastest spacecraft ever launched - hurtling through the Pluto system at more than 30,000mph, a collision with a particle as small as a grain of rice could incapacitate the spacecraft,"NASA said in a Tuesday statement.
Bowman added that NASA is "out there on the frontier," adding that scientists "try never to talk about the things we fear the most...so yes, it is science, but we are superstitious."
PHOTO: New Horizons #Plutoflyby up close (Pic via @NASA) http://t.co/6vO5NnF2NLpic.twitter.com/LLzNm08xSc

— RT (@RT_com) July 14, 2015
The spacecraft has been sending back a stream of data in recent days, but the information gleaned from its closest encounter is highly-anticipated.
New Horizons is expected to begin dumping its data – gigabytes' worth of images and measurements – in bulk on Wednesday morning. It is expected to take scores of photos of Pluto and its five moons – Charon, Hydra, Nix, Styx and Kerberos. Scientists believe the geologic differences between Pluto and Charon could provide insight into our own planetary system.
The @NASANewHorizons#PlutoFlyby team view last image before the flyby of Pluto http://t.co/pNGTMfmCyxpic.twitter.com/TiLk18HhDH

— NASA HQ PHOTO (@nasahqphoto) July 14, 2015
The pictures will also provide the first close-up view of Pluto's mountains and valleys. It has been speculated that the seven science instruments on board may even find evidence that it snows on the dwarf planet.
But scientists will still have to play the waiting game for another 16 months – the amount of time it will take for New Horizons to send everything back to Earth. The last health status report received by NASA occurred before the spacecraft turned its antennae away from Earth to focus on its Pluto mission.
The mission will keep flying after it is finished with Pluto, offering an introduction to the solar system's Kuiper Belt – described by NASA as "an outer region populated by icy objects ranging in size from boulders to dwarf planets" such as Pluto. Scientists believe Kuiper Belt objects preserve evidence about the early formation of the solar system.
I would like to congratulate the New Horizons team and NASA - National Aeronautics and Space Administration for their...Posted by Stephen Hawking on 14 Июль 2015 г.
New Horizons, which has been described as resembling a foil-covered grand piano, is 27 inches (70cm) tall, 83 inches (2.1 meters) long, and 108 inches (2.7 meters) wide. It weighed 1,054lb (478kg) at launch.
The journey has taken more than nine years to accomplish, with the spacecraft launching from Cape Canaveral atop and Atlas V rocket in 2006. The $728 million mission was threatened with cancelation 15 years ago.
New Horizons was designed and built by the Johns Hopkins University Applied Physical Laboratory (APL) in Laurel, Maryland, which also operates the spacecraft. It is part of NASA's New Frontiers Program, managed by the agency's Marshall Space Flight Center in Huntsville, Alabama.
You can share this story on social media: