Rouhani: Nuclear deal annuls meaningless sanctions, protects Iran's achievements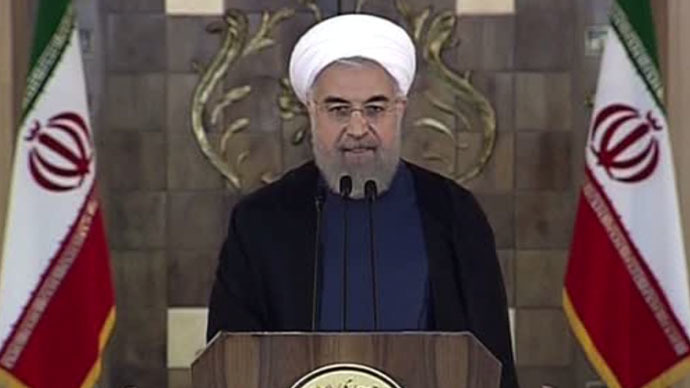 Hailing "a new chapter" in relations with the world following the nuclear deal, Iranian President Hassan Rouhani said the global sanctions against Iran had failed to produce any effect. He is sure the deal will help protect Iran's nuclear achievements.
"Sanctions didn't have any effect [on Iran]," he said, although they "at the same time had affected people's lives."
Rouhani said that "a new chapter" has begun between Tehran and the global community, and that he is "happy that 27 months of negotiations have brought success."
READ MORE: Key points of historic nuclear deal reached by Iran and 6 world powers
The agreement with P5+1 symbolizes an important point in Iran's development, he said.
"This month Ramadan [Muslim religious holiday] has brought us good news – a good agreement. Today we are in an important point of the development of our country, which crowns a 12-year history of negotiations with world powers on Iranian nuclear program."
Today is a new chapter to work towards growth & development of our dear #Iran; a day for our youth to dream again for a brighter future.

— Hassan Rouhani (@HassanRouhani) July 14, 2015
On Tuesday Iran and P5+1 (the United States, the UK, France, Germany, Russia and China) signed a comprehensive plan for ending international sanctions against Iran in exchange for putting restrictions on its controversial nuclear program. The Joint Comprehensive Plan of Action (JCPOA) acknowledges Iran's right for peaceful nuclear development on par with any other signatory to the nuclear Non-Proliferation Treaty.
This agreement goes both ways. The successful implements of #IranDeal can dismantle the wall of mistrust brick by brick. #RouhaniLive

— Hassan Rouhani (@HassanRouhani) July 14, 2015
The agreement, however, wasn't welcomed by Israeli Prime Minister Benjamin Netanyahu, who branded it as a historic mistake that would have grave consequences.
READ MORE: Israel blasts deal with Iran as 'historic mistake'

"From the initial reports received, it is already possible to say that this agreement is a historic mistake for the world," Netanyahu said.
"Wide-ranging concessions were made in all of the areas which should have prevented Iran from getting the ability to arm itself with a nuclear weapon'' but "the desire to sign an agreement was stronger than everything else," he said.
We did not expect #ranDeal to come easily. Extensive negotiations in light of mutual respect & win-win mentality were absolutely crucial.

— Hassan Rouhani (@HassanRouhani) July 14, 2015
According to Rouhani, Iran has never "sought to manufacture a nuclear weapon and will never seek to manufacture a nuclear weapon.''
"The whole world knows very well that manufacturing a nuclear bomb ... is considered forbidden.''
The agreement goes both ways as the successful implements of the deal "can dismantle the wall of mistrust brick by brick," Rouhani said in a televised address from Tehran that followed the deal.
Just now, Iran and @iaeaorg agree to accelerate cooperation with aim to fully resolve all prior issues. #IranTalkspic.twitter.com/MjtKsfCvsO

— Hassan Rouhani (@HassanRouhani) July 14, 2015
"Upon Iran Deal implementation all sanctions will be lifted - not suspended. Otherwise, there was no need for 18-day round-the-clock Iran Talks."
Iran didn't expect the deal "to come easily" as "extensive negotiations in light of mutual respect and a win-win mentality were absolutely crucial."