​Capello's contract as Russia national coach terminated 3 years early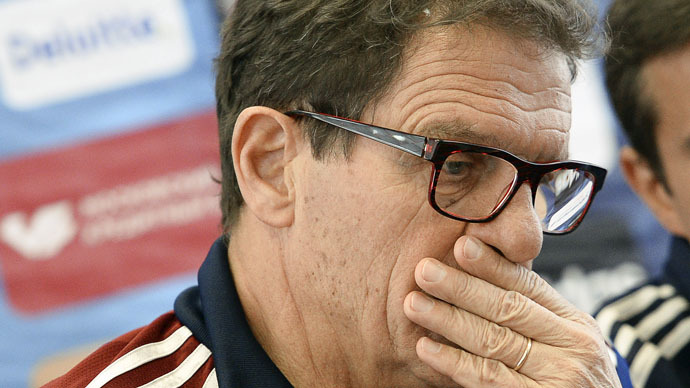 Fabio Capello's contract as the coach of Russia's national team has been ended three years early. It follows a string of losses, including a disappointing performance in the Euro 2016 qualifying campaign.
"The Russian Football Union (RFU) and the head coach of Russia's national team, Fabio Capello, have reached an agreement to terminate the employment contract by mutual agreement,"the RFU said on itswebsite.
#Фабио (#Fabio) #Капелло (#Capello) cashes out with $20mln & trends. http://t.co/yQ9Q9Jt6AY not likey one little bit pic.twitter.com/vmGnvRfu6I

— IvorCrotty (@IvorCrotty) July 14, 2015
It added that"Fabio Capello, in turn, thanks the RFU for the help and support he has felt throughout the years. He is also grateful to the players for working together and to the fans for their sincere support for the team."
Capello's contract, worth a reported US$10.5 million a year, was scheduled to end after the 2018 World Cup finals, which Russia is hosting.
The Italian-born coach will allegedly receive around $17 million in compensation following the termination of his contract. An ESPN report puts that amount as high as $23.5 million.
Sports Minister Vitaly Mutko said the amount Capello will receive is sizable, but will not be 15 million euros ($16.5 million).
The RFU's lawyer, Denis Rogachev, said the compensation amount is confidential, but that the sum is not a "heavy burden" for the union's budget.
The reported amount has prompted a number of jokes on Twitter, with photos apparently showing Capello's house and car covered in a sea of money upon his departure.
Фабио Капелло покидает сборную России по футболу pic.twitter.com/Gt0pRflNAX

— Леонид Кучук (@KuchukOfficial) July 13, 2015
RFU First Vice President Nikita Simonyan said the next coach will be from Russia, adding that a decision is possible by the end of July, RIA Novosti reported.
Russian media reports suggest that CSKA Moscow coach Leonid Slutsky is lined up to take Capello's place.
The termination comes after a series of disappointing losses for the team, including its defeat by Austria in a Euro 2016 qualifier last month.
Фабио Капелло прямо сейчас (простите, автора не знаю, но очень смешно) pic.twitter.com/xNYsiZfQju

— Василий Конов (39+) (@VasilyKonov) July 14, 2015
The team currently lies third in Group G, and is struggling to qualify for the tournament.
Russia has won just two of its last 10 competitive games – one of which was awarded by default when a match against Montenegro was abandoned due to crowd issues.
Previously, Russia was knocked out at the group stage of the 2014 World Cup in Brazil under Capello without winning a game.
The contract termination has been speculation since Russia's June defeat in the qualifier, which prompted RFU acting president Nikita Simonyan to tell R-Sport agency that Capello's role was in question.
Квартира Капелло после увольнения. pic.twitter.com/ngv8yoFusV

— СВЕТОЧ (@AnatoByshovets) July 13, 2015
The move follows recent financial problems at the RFU which led to Capello going unpaid for eight months, prompting Russian businessman Alisher Usmanov to step in with a loan to settle what Capello was owed.
It comes just one month after a group of disgruntled Russia football fans attempted to raise $23.5 million to buy Capello out of his contract, via a fundraising website titled 'Fabio Go Home.'
"Recent public surveys show the vast majority of the country's football lovers want Capello to step down," the website said.
The 69-year-old was appointed in July 2012, after leaving his job as England's coach. His most recent contract was signed in January 2014.