Ukrainian tank battalion goes AWOL, demands Poroshenko to stop 'mayhem in the army'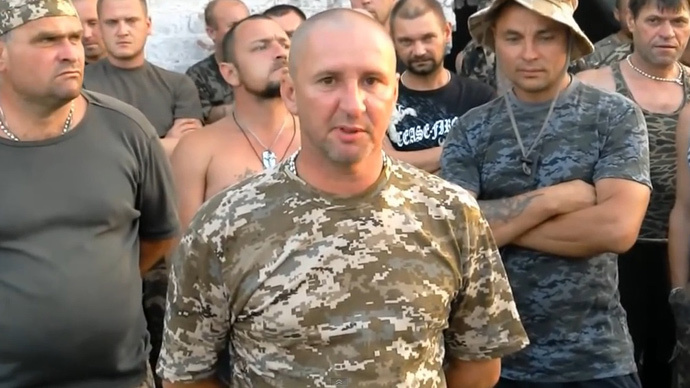 Servicemen from a Ukrainian tank battalion have reportedly recorded a video message to President Petro Poroshenko. Saying that they've had enough of the "mayhem" going on in the army, the men said they would soon refuse to take orders from their command.
Having said they had come forward to defend their country "with no cowardice when it was necessary," the men said they now wanted to go home as their one year contracts have come to an end. "We've given all we could, we stayed alive and now our wives and children are waiting for us at home," one of the men speaking for the brigade said in a video message.
The servicemen said that their command was not acting true to their responsibilities, so they too "have had enough." There has been no rotation for a year, they said, adding that they've only been home for 20 days in the entire year.
READ MORE: Member of Kiev's top brass 'defects' to anti-govt forces, predicts more like him
"We are not cowards or deserters, but now we don't care about our command the way they don't care about us. From now on their orders will be ignored," the video message said. The servicemen added they looked "like homeless people," as all the clothes they have were given to them by volunteers.
READ MORE: Show of power: Right Sector nationalists ready to send '19 battalions' to Kiev
Saying that those in charge of the terrible situation in the Ukrainian army must be punished, the servicemen demanded president Poroshenko to get involved and "deal with the mayhem."
The message came amid the ongoing armed standoff between authorities and Right Sector nationalists in western Ukraine. Since last week's clashes with police in the town of Mukachevo, the ultranationalist movement has launched a nationwide mobilization and is withdrawing from the Donbass conflict zone, where they have been taking part in the so-called "anti-terrorist operation."
The extremists who have previously rejected the Minsk ceasefire agreement and have been calling on president Poroshenko to renew the military offensive in the eastern part of the country, now threatened to deploy all of their armed and trained battalions – "if necessary" – to convince Kiev to bow to their demands.