Dozens killed in series of suicide & car bombings in Baghdad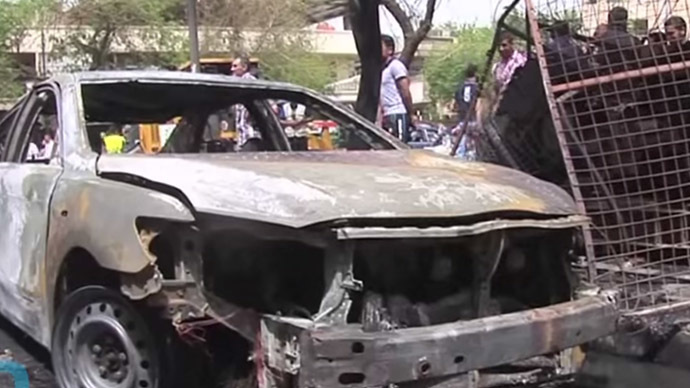 At least 35 people have been killed and many dozens more injured in a series of terror attacks in Baghdad on Sunday, including car and roadside bomb explosions, as well as a suicide vest attack.
The bloodiest coordinated attack took place at a crowded market in the northern Shaab neighborhood, where a car bomb explosion was followed by a suicide blast. The bomber detonated his vest after emergency personnel, police and eyewitnesses gathered around the site of the first blast. The twin attack killed at least 19 people and injured dozens more, according to authorities.
Chain of 4 blasts / explosions hits the capital #Baghdad tonight pic.twitter.com/ZcLix9uDhp

— Bashar Mandalawi (@BasharMandalawi) July 12, 2015
Another car bomb, this time in the Iraqi capital's Banook neighborhood, killed at least nine people, Reuters reported. Authorities also received a tip-off that more bombs could have been set up in the area and were reportedly checking the neighborhood with sniffer dogs.
More pics of car bomb blast at Adan Square #Kadhimiyah, North #Baghdad, up to 50 people casualties pic.twitter.com/CInAaTpOog

— Bashar Mandalawi (@BasharMandalawi) July 12, 2015
Earlier on Sunday a car bomb in Baghdad's al-Askan district killed at least four people and wounded 11, AP reported.
Another five people were killed by a suicide bomber in Kadhimiya neighborhood, shortly before sunset and the end of Ramadan's daily fast.
#Iraq#Baghdad#Khadmiya's explosion today #صور من تفجير #الكاظمية اليوم #العراق #بغدادpic.twitter.com/jhVmyFH9Qr

— Bashar Mandalawi (@BasharMandalawi) July 12, 2015
Medical officials who spoke on the casualty figures with the media were talking on condition of anonymity, and with over 100 wounded people admitted to Baghdadi hospitals the death toll is expected to rise.
استهداف ابناء المتعة في #الكاظمية بسيارة مفخخة هلل الإستشهادي وكبر ثم مزق اجسادهم وقطع اوصالهم #الدولة_الإسلاميةpic.twitter.com/7eyjdeaqtS

— متطرف (@Uklafah26) July 12, 2015
No one has claimed responsibility for the attacks thus far, but many of the deadly bombings across Iraq have been claimed by Islamic State jihadists seeking to gain more ground in the country.