Iran, world powers edge towards nuclear deal, but major issues remain
Iran and six world powers are closing in on a historic nuclear deal. However, unresolved issues still remain between the sides and no agreement is expected to be announced on Sunday.
"We still have got work to do and no deal will be announced on Sunday ... also there will be no extension after tomorrow," Iranian Foreign Minister Mohammad Javad Zarif told reporters.
Iran's nuclear chief Ali Akbar Salehi has said that Tehran and P5+1 group (the US, Britain, France, China, Russia and Germany) have agreed on most technical issues and annexes to a possible nuclear deal.
"Technical discussions are almost over and the text regarding the technical issues with their annexes is almost finished," Salehi is cited as saying by Iran's ISNA news agency.
According to Reuters, the diplomats close to the talks say the most difficult remaining issues in the negotiations are not technical, but political.
Earlier in the day, diplomats interviewed by TASS said that the long-awaited deal which would curb the Iranian nuclear program in return for sanctions relief is likely to be signed on Sunday or on Monday.
READ MORE: Blame game: Progress in Iran deal 'painfully slow,' Tehran laments 'excessive demands'
Two unnamed diplomats, who are participating in the talks, told AP that the envisioned accord will be sent to the capitals of the involved states for review.
If there are no last-minute objections from the sides, the deal will be officially announced on Monday, they said.
Monday is to become the last day of the marathon of talks on the Iranian nuclear program, regardless of the outcome of the negotiations, a senior source in one of the western delegations said.
"Tomorrow [July 13] is the last day in any case," the source told Sputnik news agency on Sunday.
The arrival of Russian Foreign Minister Sergey Lavrov and his Chinese counterpart Wang Yi in Vienna is also viewed as a sign that a deal is imminent.
Sergey Lavrov arrived to Vienna to join his counterparts in #IranTalks

— Anna Ivanchenko (@Anna_Iva_RT) July 12, 2015
However, some officials are issuing more cautious statements. A senior US State Department official stressed that it's still early to call the Iranian nuclear accord a done deal.
"We have never speculated about the timing of anything during these negotiations, and we're certainly not going to start now – especially given the fact that major issues remain to be resolved in these talks," the official said in an emailed comment to Reuters.
A high-ranked senior Iranian official told the ISNA news agency that "hard work continues" in Vienna and the deal shouldn't be expected on Sunday.
"Reaching an agreement is logistically impossible, also because necessary preparations cannot be made tonight," he stressed.
The current round of marathon talks in Vienna has gone into the third week, already missing several deadlines.
Iranian nuclear program has been a source of tension for nearly a decade, with the West refusing to believe Tehran's claims that it needs atomic energy for peaceful purposes only. They suspect Iran of trying to create a nuclear bomb.
Earlier on Sunday, US Secretary of State, John Kerry, said the talks between Iran and the world powers "we're getting to some real decisions."
"So I will say, because we have a few tough things to do, I remain hopeful. Hopeful," Kerry stressed.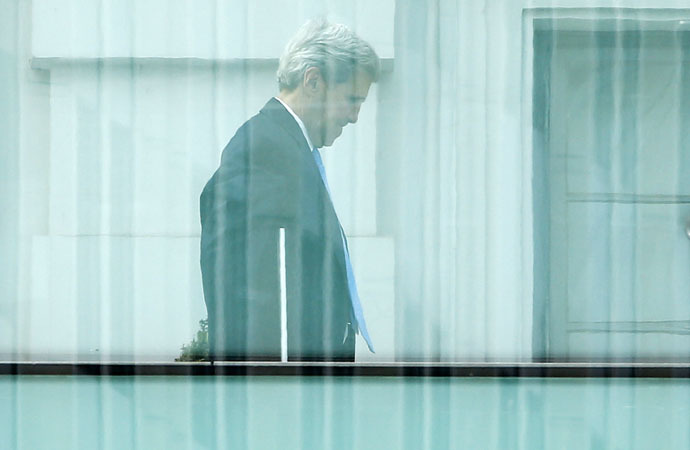 French Foreign Minister Laurent also expressed hope the negotiations "are finally entering the final phase."
"I believe it. France's position has been one of constructive firmness and I hope it will allow us to reach the end now, quickly, for a satisfying result," Fabius said.
An unnamed official from the Iranian delegation also told Reuters on Sunday that "the deal is within reach today."
The sides have given themselves until Monday to reach a compromise, with Iran accusing the West of throwing up new stumbling blocks to the deal.
There's also opposition towards the nuclear deal among US lawmakers as Senate Majority Leader Mitch McConnell warned that it would be problematic for US President Barack Obama to win Congressional approval for any Iranian accord now under discussion.
"I think it's going to be a very hard sell, if it's completed, in Congress. We already know it's going to leave Iran as a threshold nuclear state," the Republican senator told Fox News.
You can share this story on social media: