Lebanon showcases 2nd 'Israeli drone' crash in less than a month (VIDEO)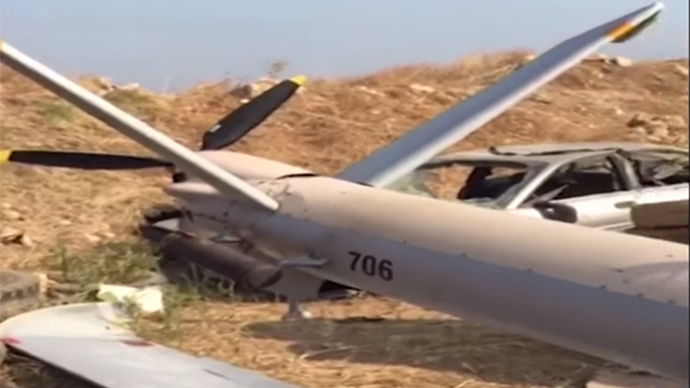 An Israeli spy drone has crashed in the waters off the Lebanese Mediterranean city of Tripoli, Lebanon's army claimed, releasing a video of the debris. It is the second such incident in less than a month which the IDF has so far refused to comment on.
"At around 8:30am (local time), a drone belonging to the Israeli enemy went down in the port of Tripoli, and the army has taken the necessary measures," the Lebanese military said in a statement, without providing any further details.
The published photos and video revealed the surveillance drone to be largely intact with a clearly visible Jewish Star of David and Hebrew writing on it. Lebanese media reported that the army surrounded the area to pull the debris from the water and conduct initial tests, which confirmed the aerial vehicle "turned out to be an Israeli drone."
"Fishermen had the impression a plane was falling down towards their harbour, close to the main port of Tripoli," Lebanese security official told AFP.
"They alerted the army which has retrieved the aircraft from eight meters under water. It turned out later that it was an Israeli drone," said the source.
RT Israel News Feed IsraelHatzolah : For 2nd time in 3 weeks, Lebanese military says an Israeli drone crashed in … pic.twitter.com/mbEb3k6mv1

— Drone Maniac (@dronemaniac) July 11, 2015
According to security officials, the drone was spying on the Lebanese and Syrian coastline before the crash.
This is the second time in less than a month that a suspected Israeli drone has gone down in Lebanon.
On June 21, in order to destroy the wreckage of an Israeli spy drone that crashed in the area, an Israeli fighter jet allegedly struck a mountainous area near the town of Saghbine in Lebanon's Bekaa Valley, located about 70 kilometers east of Beirut.
The Lebanese Army announces that an #Israel-i drone fell in #Tripoli#Lebanonpic.twitter.com/qTjF0QB3Dk

— Hassan Ridha (@sayed_ridha) July 11, 2015
Lebanon and the UN peacekeepers in Lebanon (UNIFIL), have repeatedly condemned the drone overflights claiming them to be a violation of UN Resolution 1701 and the country's sovereignty.
Following the 2006 Israeli war with Hezbollah, the Jewish state continues to monitor alleged terrorist activity inside Lebanon. The 2006 war killed an estimated 500 Hezbollah militia and up to 1,200 mostly civilian citizens and foreigners, as well as causing heavy damage to the country's infrastructure. The death toll on the Israeli side stood at 165 people, including 44 civilians.