Over a million people evacuated from China east coast as typhoon Chan-hom hits (PHOTOS, VIDEO)
Published time: 11 Jul, 2015 15:40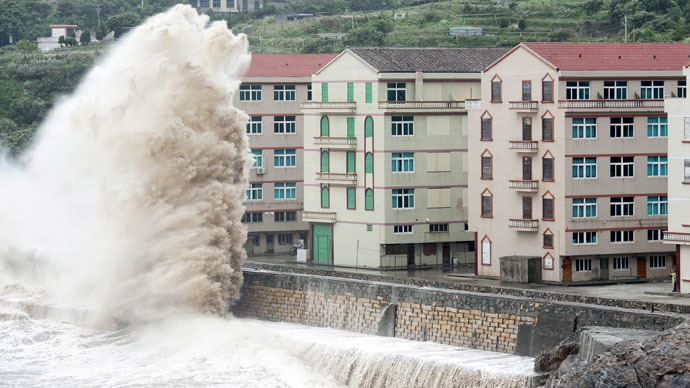 A heavy storm forced more than a million people to leave their homes on the Chinese east coast not far from Shanghai on Saturday. Typhoon Chan-hom might be the strongest to hit the region in over 60 years, the national weather service said.
Some 1.07 million people were evacuated from coastal areas of Zhejiang and the Jiangsu provinces south and north of Shanghai, ahead of the typhoon that reached the coast on Saturday, the Xinhua News Agency reported.
Although China's National Meteorological Center downgraded the storm from super typhoon to strong typhoon on Saturday, it still whipped up winds of up to 160 kilometers (100 miles) per hour, CCTV reported. Dumping over 100 millimeters (4 inches) of rain since late Friday, the storm made landfall in the city of Zhoushan in Zhejiang province.
According to weather.com, Chan-hom is on a weakening trend, but with its strong wind fields and current it could still generate a life-threatening storm surge along the East China Sea coast. The national weather service said earlier it could be the strongest typhoon in the densely populated coastal region since 1949, Xinhua reported.
No deaths or injuries had been reported by Saturday evening. But life came to a standstill in the region, with more than 600 flights having been canceled in the area, and almost 30,000 ships ordered back to port. Both land and water public transport suspended services.
Chan-hom is the ninth tropical storm that has formed in the Pacific Ocean this season. Before reaching China, it also moved over islands in southern Japan, as well as in the northern Philippines and Taiwan. Earlier this week, China suffered from another major storm, typhoon Linfa, which affected 1.6 million people after hitting the country on Thursday.