'National responsibility': Greek MPs bless bailout deal seen by creditors as 'positive'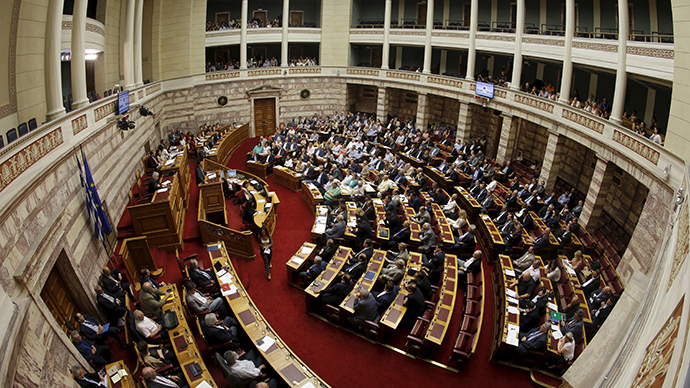 Greece's parliament has backed a debt restructuring deal, sealing that which is a "national responsibility," PM Tsipras said during passionate debates. The reform package has already received 'positive' reviews from creditors ahead of a crucial EU summit.
Following lengthy Friday night debates in the Greek parliament, the lawmakers have voted to authorize the Greek delegation's sealing of a deal with the country's international creditors in accordance with conditions presented earlier this week.
Greek MPs approve government's bailout proposal. YES 250 / NO 32 / Present 8.

— Stratos Safioleas (@stratosathens) July 11, 2015
"For the first time, we have on the table a substantial discussion for a debt restructuring," Prime Minister Alexis Tsipras told the parliament ahead of the vote on bailout terms the country put forward on Thursday.
"It is a choice of high national responsibility, we have a national duty to keep our people alive ... we will succeed not only to stay in Europe but to live as equal peers with dignity and pride," Tsipras said.
The PM insisted that with the latest proposals he had won important concessions from the creditors, and the new deal was better than the one rejected by the Greek public in last week's referendum.
READ MORE: Greece submits debt proposals to creditors - Eurogroup
Meanwhile an EU source told AFP that Greece's international creditors reviewed the Athens' proposals and considered it a good basis for a new bailout.
"There has been [a] positive evaluation of the Greek programme," the source was cited as saying. The European Stability Mechanism is reportedly ready to consider allocating €58 billion ($64.7 billion) to Greece with additional €16 billion ($17.85 billion) possibly coming from the International Monetary Fund as part of a three year bailout program proposed by Greece.
The European Commission, the ECB and the IMF have all given a positive assessment of the proposals, Reuters reported citing a source close to negotiations. The Eurogroup of eurozone finance ministers will consider these recommendations at a meeting in Brussels on Saturday.
READ MORE: Greek banks to go bankrupt Monday if no debt deal – FT
Meanwhile the new Greek Finance Minister Euclid Tsakalotos warned that "if the current deal comes to pass, it will be a difficult deal." But at the same time he admitted that "If nothing changes on Monday, and if we don't all play a part in a new day dawning, then we will have a major problem."
Withdrawals from Greek banks are reaching as high as €100 million ($2.13 million) a day, and the country's banking system may end up bankrupt on Monday if no deal with creditors is reached, and the European Central Bank (ECB) doesn't agree to extend its emergency liquidity assistance (ELA) program. The capital controls and bank closures imposed on June 29 were prolonged this week to maintain liquidity until politicians hopefully strike the deal over the weekend.