New 'kids' on the block: Japan all-grannies band rises to stardom
Published time: 10 Jul, 2015 13:17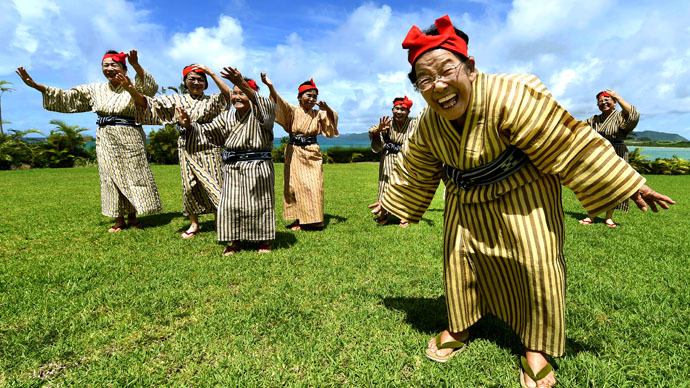 A one-off music band has broken big in Japan. KBG84's eldest member is a 97-year-old granny. The 33-strong troupe of singers and dancers has made it crystal clear that age is nothing to fret about. To join in one has to be at least 80 years 'young.'
Originating from the remote tiny island of Kohama, Okinawa Prefecture, the band members have just cut their first disc, with one of the singles called "Come on and Dance, Kohama Island", and are completing a sellout Japanese tour.
As for the group's name, K stands for Kohama-jima, B for oBachan, or old ladies in Japanese, and G is for Gasshodan, or choir.
The grannies say they haven't taken their success too seriously.
"When I first heard someone call us 'idols' I thought an idol meant someone who had lived a long life and was at the gates of heaven," Tomi Menaka, 92, told AFP. "But in Tokyo they told me it was an entertainer – which was a relief because I thought it meant I was on my way to heaven," the singer said. "I hadn't even been to Tokyo or Osaka. I wanted to go there before I went to heaven," she added.
The seniors, who recently signed a record deal, have been followed by Japanese documentary crews.
"We felt like stars in Tokyo," another band member, 86-year-old Hideko Kedamori, said. "Everyone in the audience had a big smile, which gave us the energy to sing our hearts out. We're blessed to have been born in Kohama. Our lyrics are about the island and nature – whales in the sea spouting or dolphins doing somersaults."
Menaka normally walks with a stick, but when she's on stage she feels reborn.
"I've never been as happy as I am when we perform," the nonagenarian said.
Yahoo!ニュース:天国に一番近いアイドル、目指すは紅白 沖縄KBG84 http://t.co/sMdzheTNBt #ケツメイシ#ketsumeishi#sougofollow #相互フォロー

— ケツメイシ fan (@simetukei) 29 июня 2015
In fact, Okinawan islanders boast one of the highest life expectancies in the world, their diet awash with green vegetables (the key ingredient being Okinawan signature sweet potato) but containing fewer quantities of rice and sugar than that of mainland Japanese.
At 92, Menaka says she's not torturing herself over her diet.
"I like meat and sweet things," she told AFP, adding that she looks after her health by "cleaning my home, wiping the floors, steaming rice."
She added: "I stay in the shade when it's too hot. I don't want to tan. I have to take care of my skin -- I'm still young at heart!"
"I want to go back to Tokyo with the grannies and see my grandchildren before I go to heaven," Menaka said, smiling.
"天国に一番近いアイドル"!沖縄離島で #KBG84 誕生!K=小浜島 B=ばあちゃん G=合唱団 #日本#沖縄#AKB48pic.twitter.com/bnDxIGs2tS

— Alastair Himmer (@alastairhimmer) 2 Март 2015
In fact, a somewhat similar group exists in Russia, known as "Buranovskiye Babushki", or "Buranovo Grannies". In 2012, they were flying the flag for Russia at the Eurovision Song Contest. Grannies from the band, whose combined age is over 600 years old, have put their village in the Central Republic of Udmurtia on the map. They enjoy singing in their native Udmurt language as well as in English.
"Any granny has to be able to sing, dance, smile and have fun," Galina Koneva, a singer from Buranovskie Babushki, told RT. "We're not stars, we're just ordinary grannies."