6.5 earthquake, aftershock strikes off Solomon Islands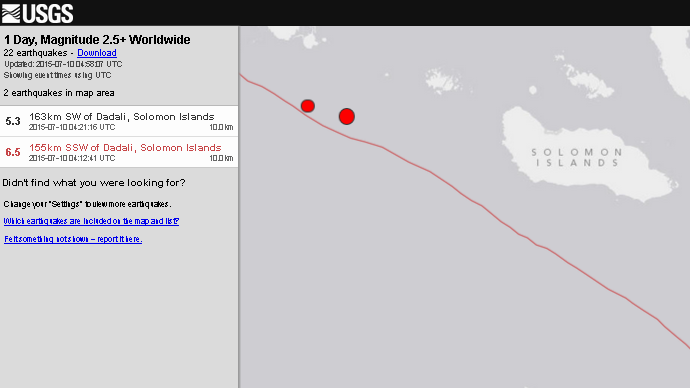 A powerful earthquake of magnitude 6.5, shortly followed by a 5.3 aftershock has struck off the Solomon Islands in the South Pacific, according to the US Geological Survey. No tsunami warning has been issued.
The quake, initially reported at magnitude 7.0, struck at 4:12 GMT some 165km west of the Solomon Islands' capital Honiara, at a depth of about 20 kilometers. Shortly after 4:20 GMT it was followed by a similarly shallow 5.3 magnitude aftershock.
There was no immediate tsunami warning issued for the area, with the Hawaii-based Pacific Tsunami Warning Center saying the US territories were in no danger. "Based on earthquake information and historic tsunami records the earthquake was not sufficient to generate a tsunami," the US National Tsunami Warning Center said.
Magnitude 7.0 quake off Solomons, no tsunami threat: USGS | via @AFPpic.twitter.com/5mJTJlGkXI

— GMA News (@gmanews) July 10, 2015
There have been no reports of damage or casualties on the Solomon Islands so far.
The latest natural disaster comes a week after Cyclone Raquel swept through the country damaging houses and crops across Choiseul, Isabel, Malaita, and the Western Provinces.
Thousands of people in remote areas of the Solomon Islands now require emergency assistance after some 10,000 people were affected by the cyclone and the subsequent heavy rains.