​Officer-involved shootings drop 33% in Norway… down to 2 non-lethal cases
Published time: 8 Jul, 2015 04:17
Edited time: 8 Jul, 2015 04:34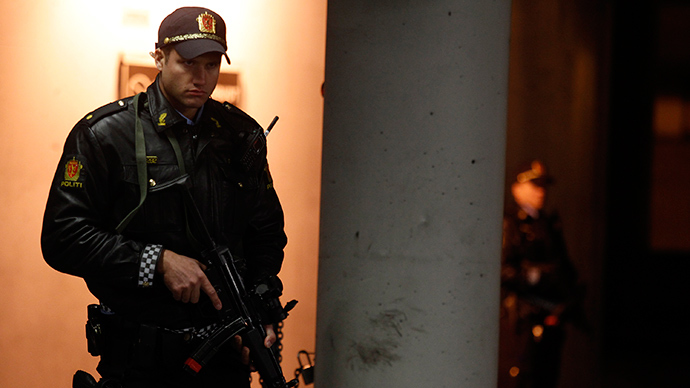 The number of cases in which Norway police officers were forced to draw and threatened to use their weapons hit a record low last year, latest statistics shows. The only two shots actually fired by the cops injured no one.
Norwegian law officers drew their guns on 42 occasions in 2014, the lowest number of times in the last twelve years, according to recently published Police Threat or Use of Firearms 2002-2014statistics. Less than five percent of those incidents ended with bullets actually being fired.
The two shots fired is a sharp 33 percent decrease from 2013 statistics, when Norway police shot their guns on three occasions, regrettably injuring two people.
According to statistics only two people have been killed in the country in officer-involved shootouts over the last 12 years – in 2005 and 2006.
READ MORE: Norwegian mass murderer Breivik to sue Norway, calls isolation 'torture'
What is astonishing is that police only fired one shot in 2011, the year of the Utoya terror attacks staged by Anders Behring Breivik, who killed eight people in an Oslo bomb blast before shooting 69 people, mostly teenagers, dead on the island of Utoya.
Such a low statistic however is hardly surprising as Norway, Britain, Ireland, and Iceland all have officers on patrol unarmed. Police are only equipped with firearms in special circumstances.
For comparison, in the US where policeman are armed, an estimated 500 people have been shot dead by police during the first half of 2015 alone. Statistics for shot fired is so high that no-one is officially keeping track of that number.
Norway, a country of 5 million people, has a relatively low crime rate in comparison to western European countries with large populations. Most offenses are petty crime, such as street burglary, not linked to any organized violence. According to the Oslo Police, they receive more than 15,000 reports of petty thefts annually.
"Organized crime does exist but on a small scale," the US State Department wrote in its crime and safety report on Norway. "Drug trafficking, petty theft, and home burglary rings typify organized crime, which is often associated within immigrant youth or transiting criminal rings from outside of Norway."