'Up 2': Canadian lifted into sky in lawn chair by 100+ balloons, arrested upon landing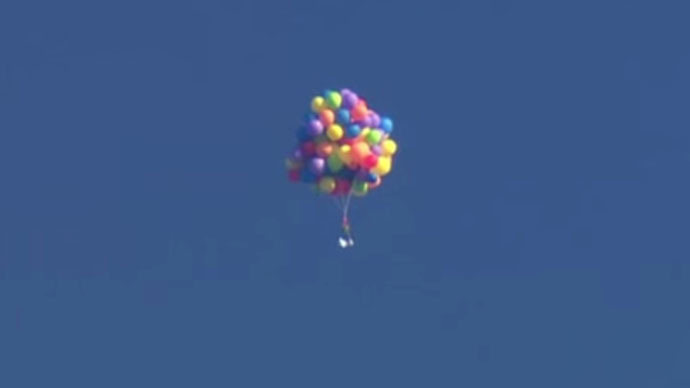 A dangerous stunt was performed by a Calgary man on Sunday, soaring high above the ground in an ordinary plastic chair attached to helium-filled balloons. The performer has been detained by police, charged with causing danger to life.
In a life-imitates-Pixar's 'Up' scenario, it reportedly took 110 large balloons about 2 meters in diameter to lift Daniel Boria, 26, skyward in a lawn chair, Canada's CBC reports. He claims it took months to plan the stunt he claims was PR for his cleaning products company.
Boria had a parachute on and planned to use it to descend on to the Stampede Park grounds.
"It was incredible. It was the most surreal experience you can ever imagine. I was just by myself on a $20 lawn chair up in the sky above the clouds," CBC cited Boria as saying.
As well has his own life, the stunt could have posed a danger to air traffic.
"At one point I was looking up at the balloons, they were popping, the chair was shaking and I was looking down at my feet dangling through the clouds at a 747 flight taking off and a few landing," Boria said.
The daredevil aeronaut got arrested upon the landing on Sunday evening, but was released the next morning, charged with "one count of mischief causing danger to life."
Even more charges could be filed against Boria later under the federal Aeronautics Act.
"I knew I would get arrested, but I didn't think they would pursue it as heavily as they did," he said. "I've never done anything wrong before and this was with good intentions.
"I don't think any publicity stunt is worth your life, nor obviously the life or property of somebody else," Inspector Kyle Grant told CBC.
Boria missed the planned landing ground at Stampede Park and instead made a touchdown several kilometers away on an industrial field in Calgary's southeast.
Police officers confiscated Boria's parachute and the video he recorded while aloft. But they could not prevent the balloons from rocketing up into the sky once Boria left the chair.
Boria estimated the cost of the stunt at $20,000, which includes hiring an airplane to carry a banner advertising his company to make circles around the Stampede grounds.
"You can spend the same marketing dollars on a billboard or a commercial or you can fly a balloon up in the air and jump out. It just seems like more fun, right?" said Boria.