'OXI!': Greek solidarity protesters interrupt Merkel's speech (VIDEO)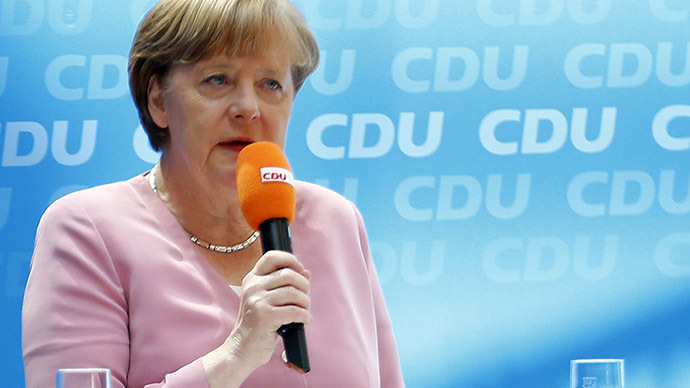 A speech by German Chancellor Angela Merkel was interrupted by a group anti-austerity protestors, who chanted 'No' in Greek in support of a negative vote in Greece's Sunday's referendum on whether to accept the harsh bailout demands of its creditors.
The incident occurred when Merkel was just about to begin her speech at an event in Berlin dedicated to her Christian Democratic Union Party's 70th anniversary.
The demonstrators chanted "OXI," which means "No" in Greek, and displayed small signs with the same message.
Security officers were quick to remove the protestors, who show put up no resistance.
As they were being escorted out of the conference room, Merkel responded to the demonstrators, saying: "In order to balance things once again, we say "Nai," which means "Yes" in Greek." The words were met with applause by her fellow party members.
Sunday's referendum was called by Greek Prime Minister Alexis Tsipras last week in order to add more clout to his position in talks with the Troika of global lenders – the European Central Bank (ECB), European Commission (EC), and International Monetary Fund (IMF).
The negotiations have stalled since the end of June, after Greece's creditors declined to prolong a financial aid program for the struggling country or delay payments on earlier debts.
READ MORE: Pro-Greece rallies STORYMAP: How the world is expressing solidarity with anti-austerity campaign
If the Greeks vote 'Yes,' Tsipras's government is likely to resign, and Greece will have to accept more austerity measures including pension cuts and tax increases.
A 'No' vote, on the other hand, may lead to Greece's exit from the eurozone, and potentially the EU, raising questions about the euro as a viable currency.
Polls show that the "Yes" and the "No" camps are running neck and neck with hours remaining before polling stations in Greece are set to open.
You can share this story on social media: