Say cheese! Fidel Castro makes first public appearance in 3 months (IMAGES)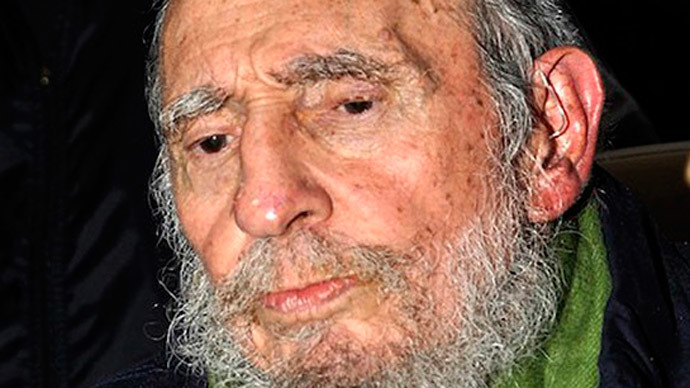 Former Cuban Leader Fidel Castro appeared to the public for the first time in three months on Friday as he attended a meeting of cheese masters in a rare trip outside his Havana home.
The Leader of the Cuban Revolution and the former President Fidel Castro, 88, visited a meeting devoted to the issues of cheese production in a rare public appearance. "The meeting lasted for more than 4 hours and was attended by 19 cheese masters," the official newspaper of the Cuban Communist Party, Granma, reported on Saturday.
READ MORE: Fidel Castro in rare meeting, Venezuela's top official posts images (PHOTOS)
According to Granma, the meeting was held at a research institute belonging to the Food Industry Ministry in Havana's suburb of Guatao. The photos published by official Cuban media show Castro sitting on a panel in an auditorium at the institute.
Fidel Castro visita el Guatao y habla de cambio climático y producción de quesos http://t.co/pAd4udgUfvpic.twitter.com/2hbkeqdm5k

— 14ymedio (@14ymedio) July 4, 2015
The former Cuban leader took an active part in discussion, Granma reports, talking about the problems of world nutrition, climate change, and the frequency of wars. He also emphasized the necessity of "restoring the cheese quality and production levels" achieved before the so-called special period from 1991 to 1995.
Fidel Castro makes rare public appearance http://t.co/1AsUZzk7D8#msnbc#newspic.twitter.com/AXcduitf5n

— WorldNews_net (@worldnews_net) July 4, 2015
The former Cuban leader made his public appearance in 3 months amid a warming in relations between Cuba and the United States, just 3 days after his brother and the current Cuban president, Raul Castro, announced a formal agreement with the USA on restoring diplomatic relations broken after the Cuban Revolution in 1961.
Cuba is expected to open an embassy in Washington with the US opening its embassy in Havana on July 20.
READ MORE: Cuba, US to open embassies on/after July 20 at end of 50-year stalemate
Fidel Castro stepped down due to illness and devolved power on his younger brother, Raul, in 2006. Now Fidel writes an occasional newspaper column and receives politicians and officials from different countries at home.
On June 21, Castro held talks with the president of Venezuela's National Assembly, Diosdado Cabello, and in May he met with French President Francois Hollande. His last public appearance before Friday's, which took place in April when he met with visiting Venezuelan students, had been the first in more than a year.