Far-right stage huge march in Kiev, call for military action in E. Ukraine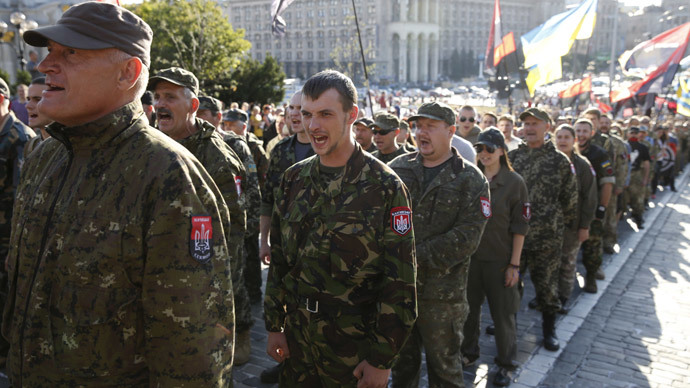 Ultranationalist Right Sector activists and other Ukrainian radicals rallied in the center of Kiev on Friday. They called for a renewed military offensive to retake rebellious regions in the country's East and the revocation of the Minsk Agreements.
Along with Right Sector members, fighters from nationalist volunteer battalions such as "Aidar," "Donbass," "Tornado," and "Azov" marched through the center of the Ukrainian capital.
Київ, #ПравийСектор "Марш Святослава" pic.twitter.com/egwdCLsFgP

— serhii (@SerhiiV) July 3, 2015
The total number of demonstrators was estimated at about 2000 people.
READ MORE: Ukraine's Right Sector rejects Minsk deal, calls for renewed offensive in E. Ukraine
The protesters demand that the Ukrainian government officially recognize the fighting in the Eastern Ukraine as a war, and not an anti-terror operation. Their demands also include cancellation of the Minsk Agreements, breaking relations with Russia, stepping-up military operations in eastern Ukraine and the "liberation of the occupied territories."
READ MORE: Ukraine ultranationalist leader rejects Minsk peace deal, vows 'to continue war'
The demonstrators read out a resolution calling for the nationalization of Russian owned companies and the launch of an offensive against Eastern Ukraine. They also claimed that the tires they had set ablaze were not only a commemoration of "Euromaidan events," but also a warning to the current government.
Nazi battalions' members and sympathizers marching in the center of #Kiev! #Ukrainepic.twitter.com/OCdU2bUJzZ

— Enrico Ivanov (@Russ_Warrior) July 3, 2015
The radicals marched down Grushevskogo and Istitutskaya streets towards Maidan square and Dinamo stadium in columns, waving Ukrainian flags alongside red-and-black nationalist ones. They also carried banners and posters touting nationalist slogans including "Glory to Ukraine!" and "Death to the enemies!" as well as some cursing the presidents of both Russia and Ukraine. Many of the protesters were wearing camouflage and balaclavas, and a few fired smoke pellets.
Kiev today. More hell. More war, require mercinaries from punitive battalions. "@agentvtylu: Киев pic.twitter.com/g4wU6midy7"

— Indigopin (@indigopin) July 3, 2015
Other posters read: "Traitors in power: Do you not fear the anger of the Heavenly Hundred?" and "Maidan fought for the freedom and glory of the Ukraine, not government treason!"
Kiev center pic.twitter.com/4XaxfNKWO0

— Elena Savchuk (@OHonigbiene) July 3, 2015
There weren't any confrontations during the protests and police presence was surprisingly low. The protesters gathered at the places where clashes between Maidan activists and security forces took place last year to pay tribute to the activists who died in those clashes.
At the same time, radicals gathered near Dinamo stadium set more than 20 tires alight, Kiev police reported.
The protesters blocked the alley near the stadium to bar access to the burning tires, preventing firemen from reaching them.
You can share this story on social media: