Putin: We don't expect any change in hostile policies toward Russia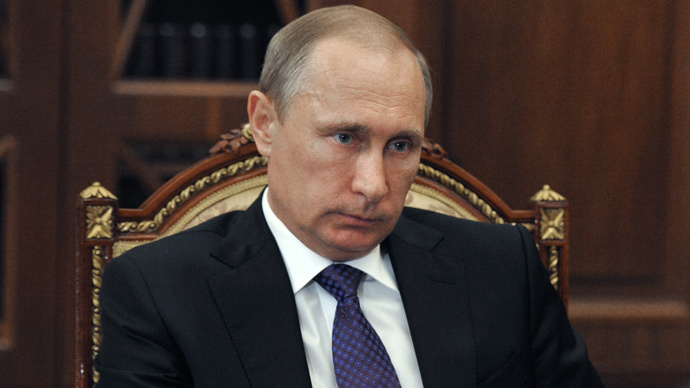 Russia is not expecting a soon change in the hostile policies it's subject to, President Vladimir Putin said at a meeting of the country's Security Council, adding that Moscow is not going to "trade its sovereignty."
"We cannot expect a change in the hostile policies of some of our geopolitical opponents in the immediate future," Putin said, without elaborating on the countries he was referring to.
"The reasons for pressuring Russia are clear: the country is conducting an independent policy and doesn't trade its sovereignty. This is not to everyone's liking, but it can't be any other way," he said.
READ MORE: Pentagon's new military strategy calls for preserving US dominion of the world
Putin pointed to what he called attempts to split Russian society "to find the weak link," but maintained that they had not yielded the desired results. Those attempts came from those who introduced and continue to support "restrictive measures" against Russia, the president said.
Russia should look into all challenges it now faces and define the strategy of the country's national security, Putin said.
"It is necessary to quickly analyze the entire spectrum of potential challenges and risks – political, economic and informational, and others, and on this basis to adjust the strategy of the national security."
Putin's statement comes after the Pentagon unveiled its new military strategy where it said that Russia, North Korea and Iran are among its new challenges together with non-state groups – particularly the "violent extremist organizations" such as Islamic State and the Taliban.
Countries that have introduced sanctions on Russia over the Ukraine crisis:
EU, US, Australia, Canada, Albania, Iceland, Montenegro, Norway, Ukraine, Switzerland, Japan
Sanctions include travel bans for individuals and asset freezes for companies considered to be involved in the ongoing crisis in the east of Ukraine and Crimea seceding from the country.
The document blamed Russia for violating "numerous agreements" with its "military actions."
The countries who initiated anti-Russian sanctions have provoked the Ukrainian crisis, Putin said, and now they don't even try to analyze what is happening.
"Those who are implementing these restrictive measures toward Russia, sanctions – they are, in fact, the culprits of all the events we are witnessing in the east of Ukraine."
Russian Security Council Secretary Nikolay Patrushev declared that the pressure on Russia is aimed at changing the country's leadership.
"Sanctions toward Russia are aimed at reducing our economic potential, to influence the policy we have been conducting. Well, in fact, [sanctions aim] to change the leadership in our country, " he said, adding that the country needs to work out a 15-year economic security strategy.
You can share this story on social media: