'Cold War mentality': Beijing slams new US military strategy over South China Sea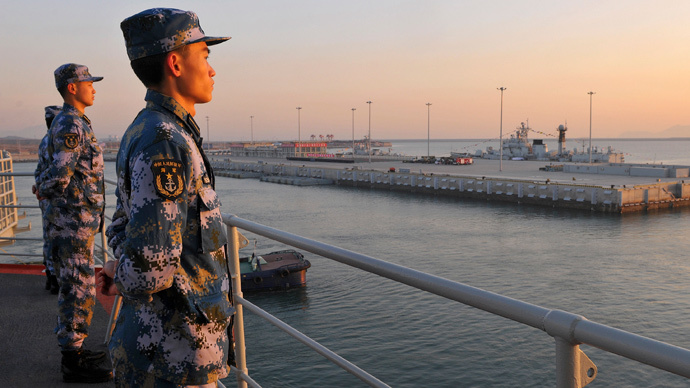 Beijing has been expressed outrage over the recently updated US National Military Strategy, which called Chinese claims in the South China Sea worrisome and "inconsistent with international law."
China's Foreign Ministry spokeswoman, Hua Chunying, said that the paper prepared by the US military and issued in June "groundlessly exaggerates the China threat."
"We are dissatisfied with and opposed to some contents" of the National Military Strategy, she said.
"China has repeatedly elaborated on its position concerning the construction on some maritime features in the South China Sea," Hua said during a regular media briefing in Beijing on Friday.
Hua also said the US should "throw away the Cold War mentality, and take an unbiased perspective of China's strategic intention."
Hua urged Washington to work together with Beijing "to advance the building of the new model of major-country relationship between China and the US," stressing that "non-confrontation, non-conflicts, mutual respect and win-win cooperation" would be beneficial for the American government as well.
The first update of the US National Military Strategy since 2011, released earlier this week, has condemned Beijing's "aggressive land reclamation efforts" in the South China Sea.
"China's actions are adding tension to the Asia-Pacific region," the strategy paper said.
"The international community continues to call on China to settle such issues cooperatively and without coercion. China has responded with aggressive land reclamation efforts that will allow it to position military forces astride vital international sea lanes," it added.
READ MORE: Pentagon's new military strategy calls for preserving US dominion of the world
China claims the larger part of the South China Sea, which is rich in energy resources and has $5 trillion in shipping passing through it annually.
Beijing's territorial demands have been challenged by a series of nations in the region, including the Philippines, Vietnam, Malaysia, Brunei and Taiwan.
In recent months, Chinese warships have clashed with vessels from Vietnam and the Philippines, with all sides accusing each other of escalating tensions.
China has drastically stepped up the construction of artificial islands and facilities in the disputed waters.
On Friday, the Center for Strategic and International Studies, a US think tank, claimed that China had "nearly completed" the construction of a 3,000-meter airstrip on Fiery Cross Reef in the South China Sea.
According to the New York Times, a new national security law passed by the Chinese government saw "core interests" stretched from territorial matters in Tibet in Taiwan to "the South China Sea and any other sovereignty issues of importance to China."
You can share this story on social media: