Over 200 detained in Hague protests against police brutality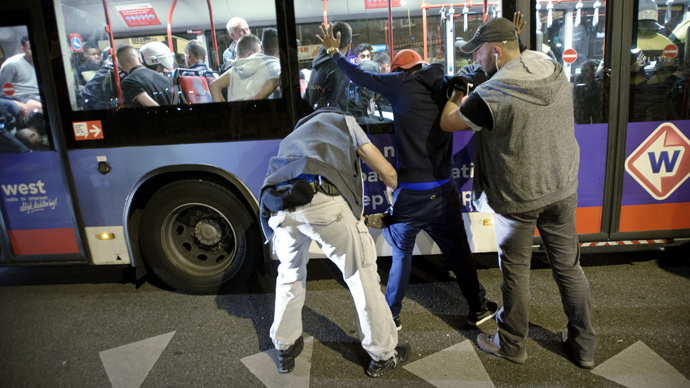 More than 200 people were detained overnight for breaking a curfew on public gatherings after protests against police brutality continued for a fourth night in The Hague, police said on Friday.
Police said most of the detained on Thursday night were teenagers. They were released on Friday after being fined.
The ban on public assembly was imposed after three nights of clashes in the dominantly immigrant district of Schilderswijk between police and protesters which resulted in the arrest of 61 people.
"@akaWolflines: Riots in The Netherlands for justice of #MitchHenriquez beaten to death by the dutch police. pic.twitter.com/nkDzZiWvcn" =>Wow!

— Belynda J. Shadoan (@shadoanbj) July 3, 2015
Wat zijn ze dapper he? @GewoonBoeiend Of zal het ook om zijn T-shirt gaan? #MitchHenriquezpic.twitter.com/0YHhAEqYa9

— Bally Sabroso (@DJSabroso) July 3, 2015
#MitchHenriquez unarmed #Aruban tourist beaten to death by police in #denhaag#Netherlands#MitchHenriquezpic.twitter.com/6PHqwvhBdv

— Mete Sohtaoğlu (@metesohtaoglu) June 29, 2015
The Hague #NL, day4 of unrest following cops killing Mitch Henriquez: ban on gathering, kettling, arrests 100+ #ACABpic.twitter.com/KH5XiJJbB7

— Smoke (@SmokeRH) July 3, 2015
The nighttime unrest has been described by Prime Minister Mark Rutte as chaotic and "retarded" with the youths throwing debris at the police and lightning fireworks.
The protests which started on Monday were prompted by the death of a 42 year old Aruban Mitch Henriquez after he was detained at a concert at the 'Night in the Park' music festival in The Hague. According to police he was shouting that he had a gun. Police used a chokehold to pin him down.
READ MORE: Man dies in hospital following brutal arrest by Dutch police
The man died on Sunday in hospital. Postmortem examination indicated asphyxiation as the cause of death. Authorities suggested that "police intervention" apparently facilitated his death.
In 2013 Amnesty International slammed The Hague police for racial profiling. According to the human rights group's report police performed preventive actions often guided by prejudice rather than reasonable grounds.
It's not the first time local police have been blamed for using excessive force. In 2012, 17-year-old Rishi Chandrikasing, a Dutch citizen, was shot dead on a railway station platform as he refused to obey police orders, according to local media.