6.5 magnitude earthquake rocks China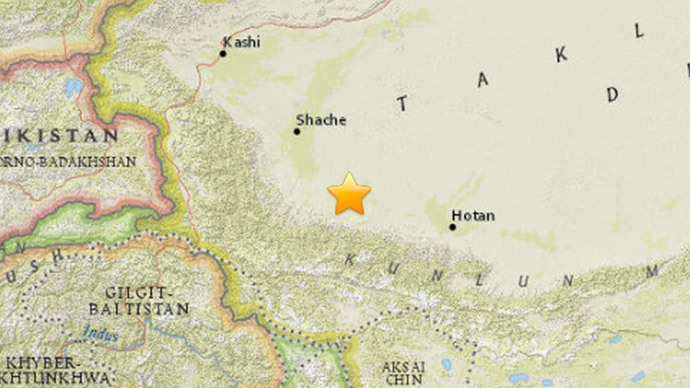 At least 3 people were killed and over 40 injured when a 6.5 magnitude earthquake struck China's western province of Xinjiang, according to CCTV.
Updates: 6.5-magnitude earthquake hit NW China's Xinjiang on Friday morning, 4 deaths reported so far, 48 injured pic.twitter.com/Jgn1uTMfst

— China Xinhua News (@XHNews) July 3, 2015
The nearest city is located 95 kilometers from the epicenter, the U.S. Geological Survey said.
The earthquake occurred in the largely agricultural county of Guma, with a population of over 200,000 mostly ethnic Muslim Uighurs.
"If many people are gathered in one place during an earthquake, it can lead to a serious disaster, but in this case, there were relatively few people so it isn't so serious," Reuters quoted Sun Shihong, a researcher at China Earthquake Networks Center, as saying.
READ MORE: Nepal earthquake: 101-year old pulled alive from rubble, death toll 7,000+
There have been reports of buildings shaking on China's Weibo microblogging service.
"The buildings are all shaking, and there are people everywhere outside," wrote one user, according to Reuters.
The last earthquake in the province of Xinjiang occurred a week ago, causing no considerable damage.
There have been eight earthquakes in the area since the beginning of the year, according to data from Earthquake Track.
The earthquake took place at a depth of roughly 10 kilometers (6 miles), according to Earthquake Daily.
Earthquakes occurring at the depth of less than 70 kilometers are considered shallow, causing more prolonged effects and potentially more damage.
You can share this story on social media: