Colombian capital jarred by 2 blasts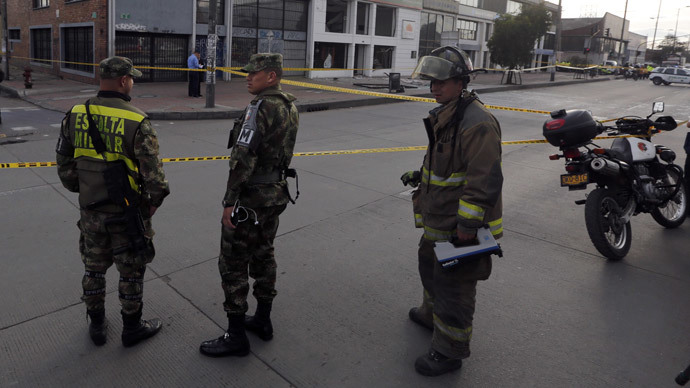 ​Two explosions have rocked Bogota, Colombia's capital, injuring at least eight people. Both bombs reportedly targeted the Porvenir pension fund.
The first bomb went off in the financial district of Bogota, just a few blocks from the stock exchange. The first floor of the building was destroyed, with glass and debris littered across the street. Seven people were injured in the incident.
The second explosion happened around the same time in a downtown branch of the fund, where one person was injured.
The country's defense minister, Luis Carlos Villegas, called both blasts terrorist attacks, noting that the bombs were of a low potency.
Defense Minister Luis Carlos Villegas said he plans to deploy more military and police on the streets to respond to "terrorist doings." Villegas did not identify any group as responsible for the attack, but some reports blame the leftist Revolutionary Armed Forces of Colombia (FARC), given some recent attacks on oil pipelines.
Meanwhile, President Juan Manuel Santos announced that he is leaving a regional summit in Peru early to head a security meeting back in Colombia.
The FARC first took up arms in 1964 as a Marxist force fighting against inequality, but later turned to kidnapping and drug-trafficking to finance itself. The insurgent group has been in talks with the government for the last 30 months, seeking to end hostilities that have cost nearly a quarter of a million lives, according to estimates. The negotiations continue despite sporadic attacks by guerrillas.