Message in a bottle: Mysterious encrypted letter discovered in Russian military city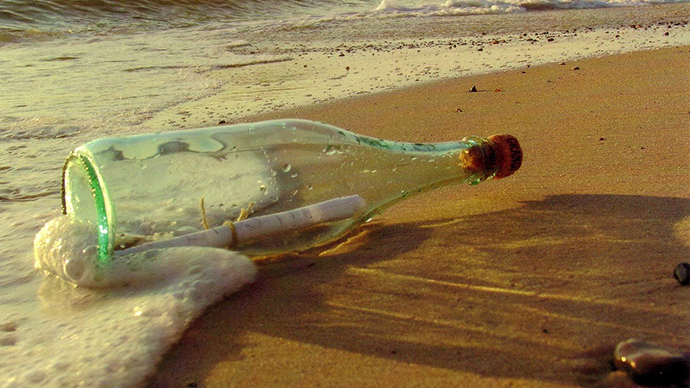 A letter found in a sealed bottle in a former Russian military city in the Kaliningrad Region has left journalists and linguists puzzled. The message, written in an unknown language, prompted suggestions that it had been encrypted by Soviet officers.
The mysterious find was reported to journalists of the local Strana Kaliningrad newspaper by construction workers, who found the bottle at a construction site in Baltiysk.
The bottle was from the Soviet era and didn't seem particularly remarkable to the workers, besides the fact that it had a cork and sealed with what looked like wax, according to the newspaper.
As curiosity prevailed, the workers broke the bottle open, finding an enigmatic letter. The surprise twist came after the letter was passed to linguists who could not determine in which language the message was written. The calligraphy was in Latin alphabet written on a sheet of old yellowish paper.
Local cryptographers suggested that the letter was written using a cipher and said they would try to decrypt it.
"We will try to find a key to the code, however we don't know how long it will take and if we could [decrypt] it," Sergey Aleshnikov, a computer security expert at the region's Immanuel Kant university, told the paper.
Aleshnikov's department is to digitize the text and count the frequency of certain symbols in it, the media reported. For example, the most frequently used letter in many languages is "e," Aleshnikov explained – a fact that could help compare the cipher to existing languages.
READ MORE: Russian message in a bottle discovered by Australian after three years
Journalists from the local newspaper noted that Baltiysk is a military port city suggesting that the letter might have been encrypted by the Soviet military. However, it might have also been written as a crypto-riddle by children, Aleshnikov suggested.
"Even if it's someone's prank 'time capsule,' it may be the work of someone in uniform. Either way, if someone recognizes their 'masterpiece,' please inform our editorial office," journalists from Strana Kaliningrad wrote.
Baltyisk is Russia's most western seaport. Located on the Baltic coast, the region is an exclave, with no land connection to the rest of Russia. Prior to 1946, Baltiysk was known by its German name, Pillau. The city was a closed military naval base in the Soviet era, and during the Cold war it was served by the Baltiysk airbase. Access to the area was forbidden to foreigners or those without a permit.
You can share this story on social media: