100 yrs of Russian beauty in 1 min: New video shows century of women's looks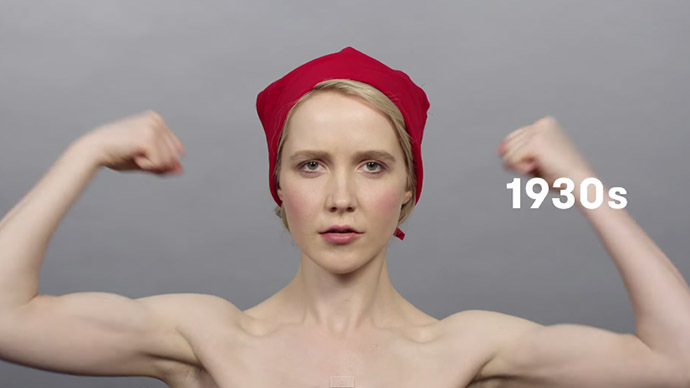 A lively new video, which is part of the viral '100 years of beauty' series, explores how women's beauty trends have evolved over the past century in Russia, taking a visual journey from Art Nouveau's elegance to bold lines and famous fur Kubankas.
The video stars model Anya Zaytseva who, with the help of hair and make-up stylists, changes looks to reflect different decades 10 times during the course of the clip.
The video begins with a look at the beauty trends of the 1910s. Soft lines of curls crowned with a pearl headpiece perfectly reflect the Art Nouveu style that flourished at the beginning of the 20th century.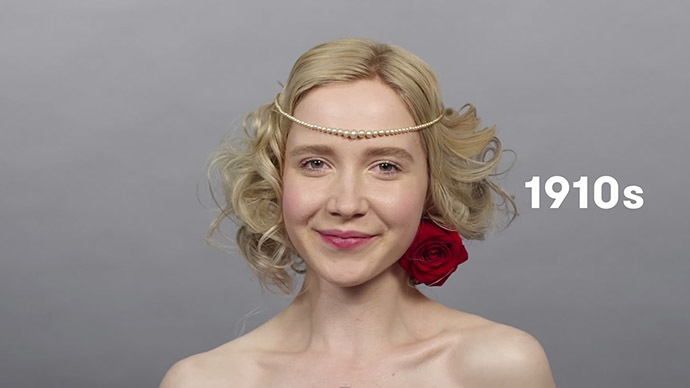 This delicate look is contrasted with the poetic dramaticizm of the second decade of the 20th century. The Art Deco style, which emerged after World War I and rapidly gained popularity by the 20s, was characterized by sharp bold lines and symmetry. Consequently, one of the most popular beauty trends among women at that time was the iconic bob, intense smoky eyes, and dark velvety lips.
In the 1930s, communist ideology revolutionized the concept of women's style in Russia. The new political movement called on women to give up make-up and take up work in an effort to help build a new Russia.
The 1940s were marked by the catastrophic events of World War II, with about 800,000 women serving in the army. In the video, Zaytseva dons the well-known Soviet military cap – the so called "pilotka."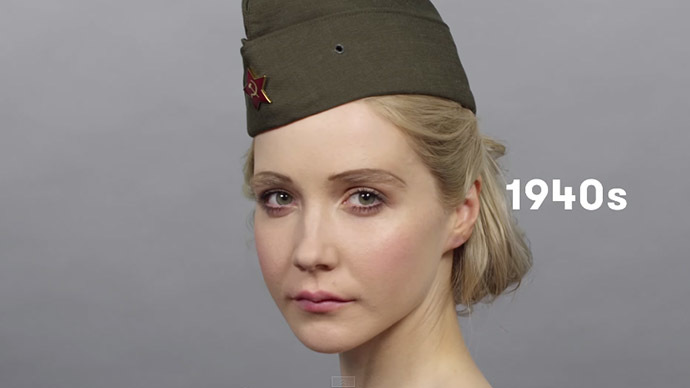 However, with the 1950s and 60s, joie de vivre returns to Russia, with bright and bold colors and shapes prominent in the styles of those decades. One of the styles attributed to the 50s was called the "Stilyagy," which was heavily influenced by American fashion and lifestyle, and propagated by Soviet youths.
To reflect the beauty trends of the 1970s, Zaytseva wore the famous Kubanka – a round hat with a flat top made of soft karakul lambskin. It was popularized by the heroine of a Russian New-Year's comedy called "Irony of Fate." The movie still runs on state TV channels every winter holiday season in Russia.
The 1980s, in their turn, provide a David Bowie-like, big-hair look – the style seems to predict the fall of the Soviet Union and upcoming changes.
The 90s and the beginning of the millennium show a more natural style – especially hair-wise, despite brighter accents on the lips in the former decade, and on the eyes in the latter.
The beauty trends video quite unexpectedly ends with a Pussy Riot reference, when the model puts a balaclava on her head, cuts holes in it, and casts a fierce look at the camera.