Study reveals how world's largest lake turned into Sahara desert dust
In its heyday some 6,000 years ago, a lake called Mega-Chad was the largest body of fresh water on the planet, with an area of 360,000 square km. A few hundred years later it's reduced to Lake Chad at only 355 square km, and an air of faded grandeur left.
Researchers from Royal Holloway, Birkbeck and Kings College, University of London used satellite images to map the abandoned shore lines around Mega-Chad and calculate their age. They managed to recreate a lake-level history spanning the last 15,000 years.

"We reconstruct the lake-level history of Lake Mega-Chad, when it was the largest African lake, and demonstrate that this humid period ended abruptly 5,000 years ago, indicating that the African monsoon exhibits a nonlinear response to insolation forcing," researchers wrote in the journal Proceedings of the National Academy of Sciences.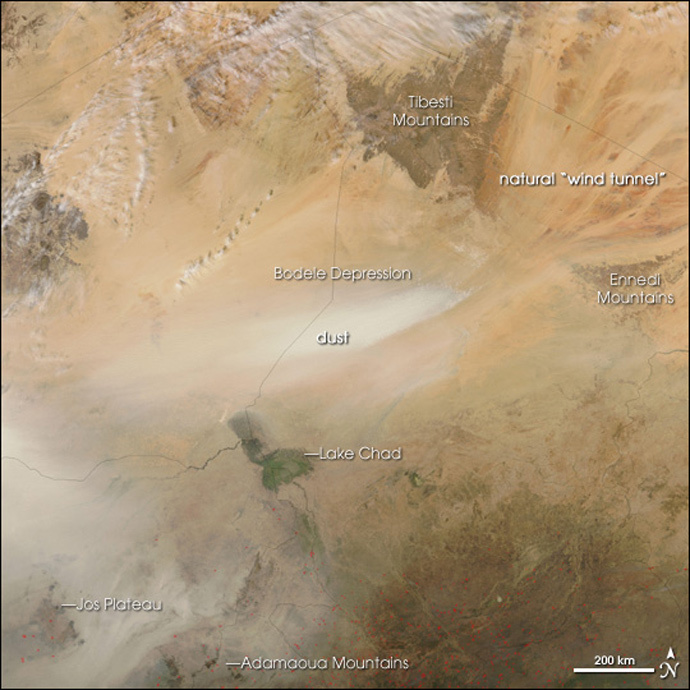 They say the northern basin of Lake Mega-Chad, currently the world's greatest dust source, dried out around 1,000 years ago. The drying of the Mega-Chad (that used to be where Lake Chad now sits on the borders of Chad, Nigeria, Cameroon and Niger) has been linked to drastic climate change and the West African Monsoon dynamics.

The research proves that the climate change wasn't slow-paced. It took the southern Sahara just a couple of hundred years to dry out completely.
Part of the Mega-Chad that has drained entirely is the so-called Bodélé Depression, located at the southern edge of the Sahara Desert in north-central Africa. It's the world's single greatest source of atmospheric dust, according to Science Daily. In winter, the Bodélé valley produces an average of 700,000 tonnes of dust per day, New Scientist reported. The Bodélé dust has been credited with helping to keep the Brazilian rainforest soils fertile. The researchers found, however, that a lake existed in the Bodélé basin until around 1,000 years ago.
READ MORE: NASA video shows Sahara Desert fertilizing Amazon Rainforest with dust

"The Amazon tropical forest is like a giant hanging basket," Science Daily quoted Dr. Simon Armitage from the Department of Geography at Royal Holloway as saying.

"In a hanging basket, daily watering quickly washes soluble nutrients out of the soil, and these need to be replaced using fertilizer if the plants are to survive. Similarly, heavy washout of soluble minerals from the Amazon basin means that an external source of nutrients must be maintaining soil fertility," he added.

"As the world's most vigorous dust source, the Bodélé depression has often been cited as a likely source of these nutrients, but our findings indicate that this can only be true for the last 1,000 years," Armitage wrapped up.