New wildfire sends smoke billowing over Chernobyl exclusion zone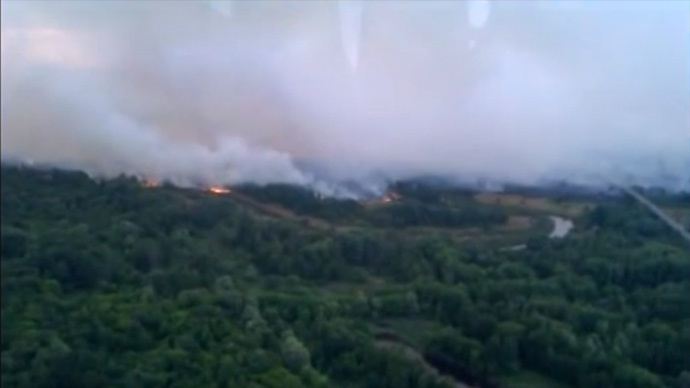 A wall of smoke was seen rising over the exclusion zone around the crippled Chernobyl nuclear power plant on Tuesday as Ukrainian emergency services scrambled helicopters to extinguish a wildfire.
Some 130 hectares of grassland is ablaze, emergency service officials say.
"In the zone of exclusion and mandatory relocation near the village of Kovshilovka and Polesskoye, in the Uzh river flood basin there was a fire outbreak in dry grass and rushes, which spread in separate flashpoints across an area of about 130 hectares," the statement on the emergency ministry's website says.
People were relocated from the area around the Chernobyl nuclear power plant after the 1986 incident, when an explosion and fire at one of the reactors triggered a massive release of radioactive particles in the worst ever nuclear disaster in terms of casualties and clean-up costs. Radiation contaminated the surrounding area, seeping into the ground and vegetation.
This is not the first wildfire in the area over the recent weeks. An indication of how wide a fire can spread in the untamed wilderness of the exclusion zone can be gleamed from the events of early May.
READ MORE: Chernobyl fire: Kiev claims no radiation threat, experts ring alarm bells
Then, some 400 hectares of forests were burning near Chernobyl, the fire at some points reaching as close as 20 kilometers from the sealed, crippled Reactor No. 4. Then, some 300 personnel and 51 vehicles, including airplanes and helicopters, were involved in putting out the fire.
According to officials in Kiev, the fire did not result in an increase of radiation levels. However, it did highlight "a catastrophic lack of equipment in Ukraine," Prime Minister Yatsenyuk said at the time.
Although, according to the emergency ministry's spokesperson in Kiev region, the new blaze does not pose any threat so far, uncontained wildfires in contaminated areas can lead to a disastrous spread of radiation, experts have warned in May. "The amount of radioactivity potentially released from wildfires could be the equivalent of a major nuclear accident," a Greenpeace representative told radio Govorit Moskva.
The potential danger comes from the radioactive particles that the plants in the area have absorbed over the years, ecologist Christopher Busby told RT.
"Some of the materials that were contaminating that area would have been incorporated into the woods," said Busby, who is the scientific secretary of the European Committee on Radiation Risks. "In other words, they land on the ground in 1986 and they get absorbed into the trees and all the biosphere. And when it burns, they just become re-suspended. It's like Chernobyl all over again."
You can share this story on social media: