Paris-bound Aeromexico plane diverts to Ireland due to fire alert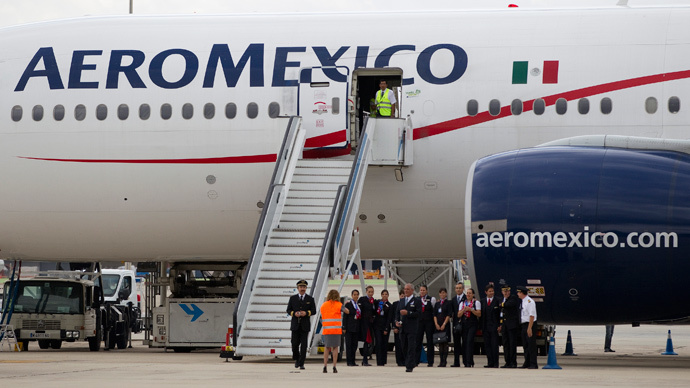 An Aeromexico Boeing Dreamliner flying from Mexico City to Paris has reportedly declared an emergency due to a fire in the cargo hold, and is being diverted to Shannon Airport in southwest Ireland.
Aeromexico flight AM3 was scheduled to land at Charles de Gaulle airport in Paris at 17:35 GMT, according to Airlive.net. The Boeing 787-8 Dreamliner declared an emergency at 13:27 GMT.
UPDATE EMERGENCY Aeromexico #AM3 to Paris CDG is descending and diverting to Ireland. Live: http://t.co/zpCjBplzQapic.twitter.com/56T7ktoxfW

— AirLive.net (@airlivenet) June 29, 2015
The plane was diverted to Ireland's Shannon airport and landed there safely at 13:50 GMT. There have been no reports of casualties.
A video of passengers on the AM3 flight preparing for emergency landing has been posted on Twitter.
Aterrizaje de emergencia vuelo de @AeroMexico en Irlanda del Norte pic.twitter.com/n3RrU1Ur6v

— MIGUEL ANGEL RAMIREZ (@MIGUELANGELRAM) June 29, 2015
Emergency vehicles have rushed to the scene to deal with the fire. The aircraft, which landed on runway six, is proceeding to the gate for inspections by fire crews.
Fire crews now attending #AM3@ShannonAirportpic.twitter.com/keNYdKQeAm

— Aircraft Retweet (@AircraftRetweet) June 29, 2015
Hacia Paris, pero nos toco aterrizaje d emergencia en Irlanda. Afortunadamente no paso nada @AeroMexico#Dreamlinerpic.twitter.com/JyM1M5yKd0

— Simón Barquera (@SBarquera) June 29, 2015
The Aeromexico crew has issued a warning not to approach the cargo department on the right-hand side of the plane, according to reports.
Aeromexico is Mexico's main airline and one of the four founding members of the SkyTeam alliance. The Mexican carrier has seven Boeing 787-8 Dreamliners operating in its fleet, two of them owned and the rest leased. According to the carrier, the Boeing 787-8 can carry up to 243 passengers and has a maximum cruising speed of 890km/h.
You can share this story on social media: