Mosque aids Catholic church in Canada after acts of vandalism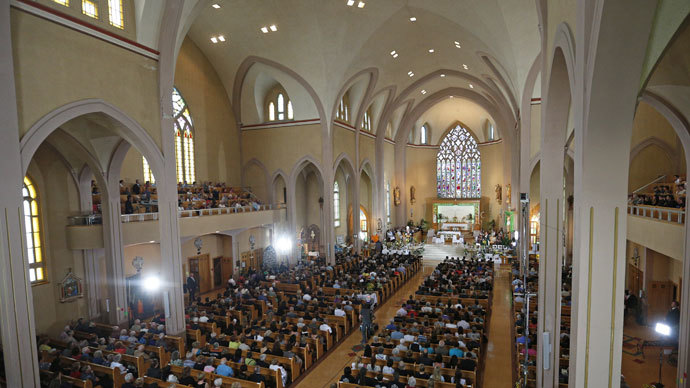 A mosque in Mississauga, Canada, has donated thousands of dollars to help a neighbor in need. A Catholic church in the area needed a clean-up after acts of vandalism on its premises.
Following the incident, Hamid Slimi, imam of the Sayeda Khadija Centre in Mississauga, visited St. Catherine of Siena Roman Catholic Church.
The church's Father Camillo Lando showed him some of the acts of vandalism that had been caught on security video. The imam was shocked.
"It was a very bad scene. The guy who did it ripped pages out of the Bible. He broke the altar. He threw the cross. When I saw this, I thought it was pure injustice. It was just wrong," Slimi told the Star media outlet.
The repeated acts of vandalism at St. Catherine of Siena Church took place in April and May. On top of graffiti covering the walls of the church's school and torn Bible page covering the premises, a statue of Jesus was desecrated with black paint. Police have detained a 22-year-old local man and charged him with a hate crime, according to the Catholic Register.
READ MORE: Valentine's Day massacre? Murder-suicide plot 'averted' in Canada – police
After he saw footage of the attacks, Imam Slimi spoke to his congregation about the church's plight and called for donations.
"I told my community, there is nothing we can do now. But the church needs funds. We believe there is no discrimination in charity. It is the act that is rewarded. It doesn't matter who is the recipient," the imam said.
The worshippers gathered CAD$5,000 in a day.
Slimi gave the cheque to Lando and the church board, and "told them, this is what any Muslim would do."
READ MORE: White Americans bigger terror threat than Islamic extremists – study
Lando informed his congregation about the donation at the weekend mass.
"We are walking together in this community. We keep our faith, and we have to honor and respect people of other faiths," he said.
Iqbal Hessan, the man arrested on suspicion he had carried out the acts of vandalism, said during the bail hearing that he was "upset with the Christian religion."
The young man's father told the court that Iqbal has been diagnosed with schizophrenia, and that's what probably led to such behavior.
The estimated damage to the church's property was CAD$10,000.