​US a surveillance superpower spying on foes & allies alike – Assange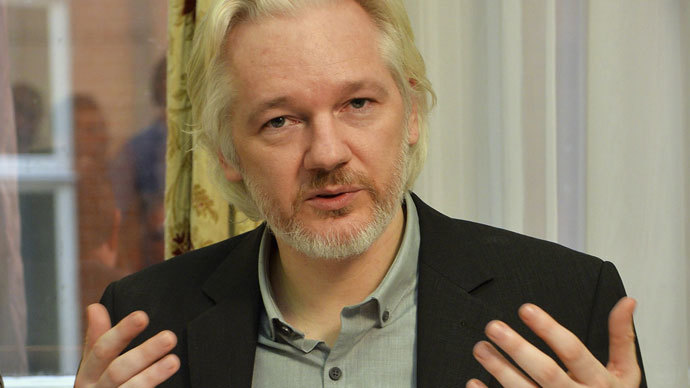 The United States has unparalleled surveillance capabilities that it uses to spy on the entire world, including its allies, to boost its competitiveness, WikiLeaks founder Julian Assange told a Russian TV channel.
"The US is a surveillance superpower," he told Rossiya-1 in an interview, slated to be broadcast later on Sunday.
"This country spends on surveillance 60 percent of what the entire world spends on espionage," he said. "They spy on everyone, including their allies. And use the information for their political and economic goals."
Earlier, WikiLeaks released classified NSA document apparently proving the intelligence agency had been spying on top French officials, including three consecutive presidents. US President Barack Obama and State Secretary Kerry assured that no such activities had taken place.
Assange insists the documents released by the whistleblower website are proof enough. New data on the issue is to be released on Monday, he said. Earlier the French newspaper Liberation said it would publish new documents provided by WikiLeaks.
Amid the scandal, the French government indicated it may offer political asylum to Assange and NSA whistleblower Edward Snowden in a symbolic snub against Washington.
READ MORE: New NSA whistleblower suspected behind French president surveillance leak
The French government should not be satisfied with the denials by the Obama administration and investigate the matter with the goal of eventual prosecution, Assange said. He stressed Washington's argument that the NSA's mass surveillance programs are necessary to provide national security aren't convincing.
"This is not about terrorism. Not even to know whether the French would sell arms to Russia or anything like that. This is about espionage that is hard to justify. The US simply wants to boost its competitiveness against France," he said.
He pledged to continue his work exposing shady US actions even though his adversary is very powerful.
"The US tried to destroy WikiLeaks as an organization. They continue persecuting me and my colleagues, they have launched a massive investigation. No such campaign against a publisher happened in US history. But they have lost all the key battles," he said.
Assange remains stranded in the Ecuadoran embassy in London, where he is being sheltered from extradition to Sweden. He is wanted there for questioning on sex abuse allegations. He believes that Sweden would hand him over to the US for prosecution over WikiLeaks' activities and refuses to surrender.
You can share this story on social media: