Holy See seals first treaty with State of Palestine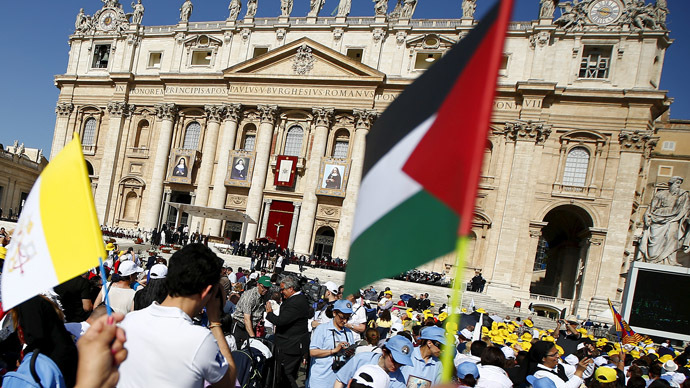 The Catholic Church has signed its first treaty with Palestine, making official its de facto recognition of the state. Israel reiterated that it regretted the decision.
The treaty first announced in May concerns the activities of the Church in areas controlled by the Palestinian Authority.
The Vatican hopes the treaty could be a "stimulus to bringing a definitive end to the long-standing Israeli-Palestinian conflict, which continues to cause suffering for both parties," Archbishop Paul Gallagher, the Vatican's foreign minister, said.
The Catholic official said it hoped a two-state solution to the conflict could be found soon.
"This certainly requires courageous decisions, but it will also offer a major contribution to peace and stability in the region," he said.
Vatican officially recognizes Palestine, #Israel fumes http://t.co/5AxSWMhtowpic.twitter.com/G4Q728MPKJ

— RT (@RT_com) May 14, 2015
The Israeli Foreign Ministry expressed regret over the Vatican's decision.
"This offensive step hurts the chances of reaching a peace agreement and moves the Palestinian leadership further away from returning to direct bilateral relations," it said in a statement.
Israel's own agreement with the Vatican over the status of the Church in Israel remains in the making after 16 years of negotiations. The issues of taxation, expropriation and the status of over 20 sites in the country are at a dispute.
The Vatican endorsed the 2012 vote at the UN General Assembly, which upgraded Palestine's status to an observer non-member state. The Holy See de facto recognized Palestine since then and referred to it as such during Pope Francis visit to the Holy Land last year.
You can share this story on social media: