Man learns never to mess with disabled parking in Brazil (VIDEO)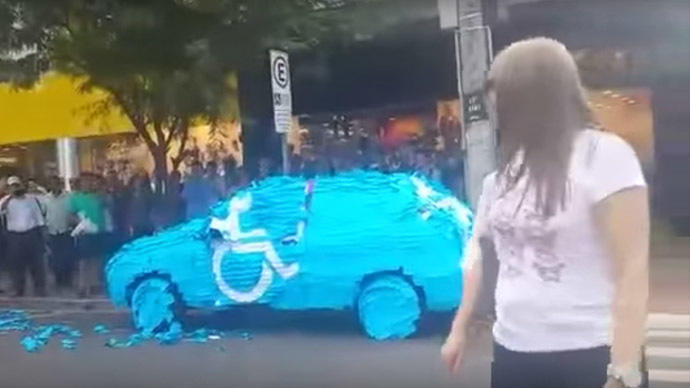 A video has gone viral of one inconsiderate driver being taught a lesson in Brazil. The man parked in a disabled zone only to return to find his vehicle covered with blue and white post-it notes. His car resembled a giant international disabled sign.
The incident took place in the southern town of Maringa.
The guy was visibly angry as he feverishly tore thousands of the things off his car. He attempted to drive off with at least some of his dignity intact.
However, this didn't happen. When the guilty party managed to pry his door open and get into the car to drive off, he found his view completely obscured by the post-it stickers on his windshield.
Onlookers giggled and took pictures while the flustered man tore at the remainder of the notes, before giving up and driving off with his new paint job.
READ MORE: Swim to your car, it's 'normal'! Downpour turns roads to rivers in Russian cities (PHOTOS)
You can share this story on social media: