Free rides only for the rich: Activists expose social divide in Sweden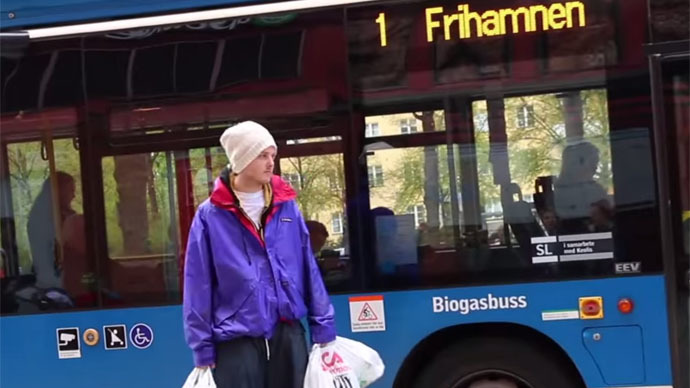 A social experiment conducted on Stockholm city buses has exposed dramatic social inequality and discrimination against the poor. An actor who tried to get free rides wearing both 'rich' and 'poor' clothes told RT he was "frustrated" by the results.
The video, released by the STHLM Panda activist team, shows a number of instances of Olle Öberg attempting to sneak on a bus while having no money to pay for the ticket. STHLM Panda's Olle Öberg, who stars in the video, told RT that the idea of conducting such an experiment came to him after he witnessed a homeless person being refused boarding.
At first while wearing business attire he was welcomed by all and every bus driver regardless of his inability to pay for the ride. The bus drivers treated him "nicely", welcoming them on route or even offing help with searching for his "lost wallet."
The situation changed dramatically when the man tried to enter the bus wearing rugged clothing, acting to be poor or homeless, sometimes carrying his supposed belongings in a plastic bag.
"I was refused by all the bus drivers," Öberg told RT. "I felt that they were looking down on me. They were mean to me as well."
He said that the constant rejection had inflicted a tremendous impact on his self-esteem, especially when he was laughed at.
READ MORE: 'Jew, Jew, Jew... Run': Social experiment suggests rising UK anti-Semitism
"One bus driver was laughing at me when I asked him, why can't I get on the bus," Öberg said. "When they refused me all the time my sense of dignity fell. And I was not respected at all!"
The activist says that he wasn't mad at the reaction that he received, rather he felt "frustrated" at realizing such a class divide was pervasive even in the realm of public transport.
"Everybody should get treated equally, there shouldn't be such a big difference," he told RT.
The video which has generated close to half a million views on YouTube was filmed by the STHLM Panda activists who see blatant a disregard for human dignity omnipresent on the planet. By highlighting the problem in Sweden, a country known for its tolerance, they hope to inspire people to treat each other with respect globally.
"Someone who is poor, it does not mean that he is bad. It means that he is a human being and that he should be respected. And people forget about that nowadays"