​#Whoops: Canada cops accidentally broadcast blowjob conversation from helicopter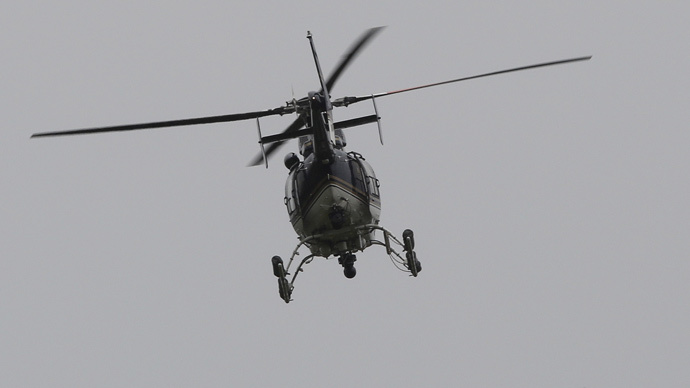 The skies of the Canadian city of Winnipeg became hot and steamy on Monday night – but it wasn't due to the weather. Instead, residents heard cops having an explicit X-rated conversation about blowjobs during an accidental broadcast from a helicopter.
The two officers inside the Air-1 chopper thought their dirty discussion was taking place in private, but they had actually inadvertently turned on the helicopter's PA system – broadcasting their raunchy remarks to the unsuspecting citizens of Winnipeg.
Luckily for the officers, it seems no one recorded the conversation. But it apparently included blowjobs and one officer's distaste for excessive amounts of body hair.
Pilots in the Winnipeg police helicopter having a conversation with their loudspeaker on. Pretty funny to hear. #Winnipeg#wpgpolice

— Jacob Serebrin (@jacobserebrin) June 23, 2015
West End resident Brandi Armstrong told CBC News that one officer asked the other if he would give him a blowjob. The other cop responded by saying, "You have too much body hair."
"My jaw hit the ground, eyes bulged out," Armstrong said, adding that her husband was also surprised.
@PatOndabak@afixedaddress the only other words we could discern were "....too much body hair."

— Nat (@natncello) June 23, 2015
Another Winnipeg resident, Jacob Serebrin, said he heard the officers using"some swears"and making"references to money."
That moment you realize you left the speakerphone on while having an X-rated conversation in a Police Helicopter. #whoops

— Robin B (@Mad_Skippy) June 23, 2015
Surprised residents took to the Twittersphere around 10pm local time, using hashtags such as #whoops and #speakerphone.
Umm... @wpgpolice ya might want to tell the helicopter they are broadcasting. Sounds like an interesting conversation between the 2 guys :)

— Lynn B (@likeflies) June 23, 2015
One of the first people to tweet was Natanielle Felicitas, who told CBC News she was enjoying a relaxing evening in her backyard with friends when the bawdy broadcast took place.
"We paused to listen and were shocked by what we heard. It was a hilarious and inappropriate human blooper moment," she wrote in an email. "I rarely tweet, but this moment seemed too bizarre not to share."
Does the #Winnipeg chopper realize the entire West End can hear their convo about blow jobs right now? @winnipeg311#speakerphone#whoops

— Nat (@natncello) June 23, 2015
The Winnipeg police service has apologized for the incident, adding that it is under review and the outcome "will be determined at a later time."
"The Winnipeg Police Service, the Flight Operations Unit, and the involved members sincerely apologize to all members of the public, especially those who overheard the broadcast," the department said.
While it seems most people in Winnipeg were able to laugh off the matter, Armstrong believes the officers should be punished for their actions.
"A police officer, they [sic] hold a very important job. Tons of people look up to them. Children look up to them," she said.
"I mean, you're setting a bad example for children. It's almost saying it's OK to speak like this."