Minsk accords must be implemented in full, including political parts – FM Lavrov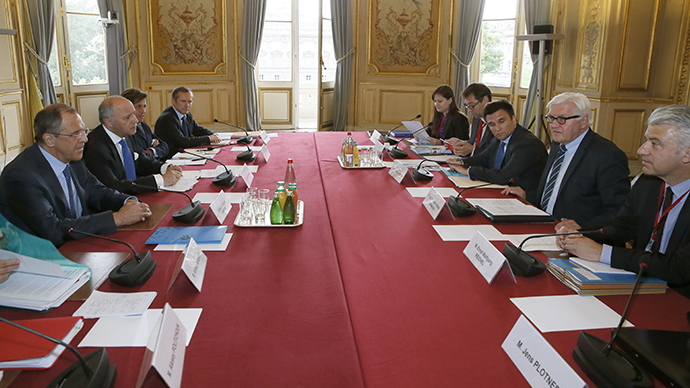 The Minsk agreements on Ukraine crisis reconciliation, which have no alternatives, must be fully implemented, including the political aspects outlining constitutional reforms, said Russian FM Sergey Lavrov after the Normandy Four group ministers' meeting.
France and Germany both agree that there is no alternative to the peace agreement reached in Minsk back in February, Lavrov said after meeting with his counterparts on Tuesday.
"We stated that, first of all, the whole package of measures from February 12 remains in force exactly as a package, that it is important to move in all directions, not necessarily linking one thing with another, but necessarily facilitating movement forward on every point that was outlined in the package of measures," Lavrov said, as cited by TASS.
The stabilization of the military situation in Donbass remains the main goal at the moment, the Russian minister emphasized.
Lavrov remains hopeful that the Normandy format talks and the countries involved can encourage the sides of the conflict to fully implement their obligations under the Minsk deal.
Meanwhile German Foreign Minister Frank-Walter Steinmeier noted that the sides participating in the talks "do not deny" multiple violations of ceasefire in the eastern Ukrainian regions.
"We discussed the opportunities to deescalate the overall situation," Steinmeier added, as cited by RIA.
During the meeting the sides clearly demonstrated their "awareness" of the potentially dangerous actions of "certain forces" who are trying to shift the whole situation into the dimension of eventual military resolution, Lavrov noted.
"I won't name the addressees, but such forces are present," Lavrov said. "Many, for various reasons, prefer a military, forceful scenario; many want the situation not to settle, but instead to escalate … Today, I emphasize it bindingly, all four ministers stood firmly against such attempts and for Minsk II remaining the basis of all our efforts."
The ministers spoke in favor of the revitalization of the contact group and its sub-groups' work in the region in order to avert any military scenario.
Ahead of Tuesday's ministerial meeting, Russian President Vladimir Putin shared his opinion of the crisis in Ukraine in a phone call with France's Francois Hollande and German Chancellor Angela Merkel.
You can share this story on social media: