770k tons on landfill by 2040: Old Japanese solar panels may harm environment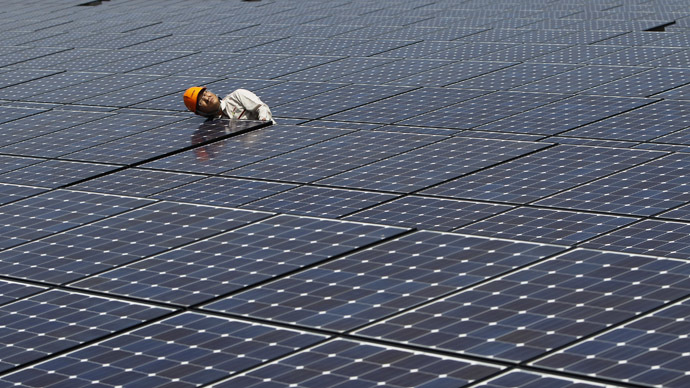 Japan's drive towards creating green energy could come at significant environmental cost. The country's Environment Ministry says that 770,000 tons of solar panels will end up on the scrap heap in two decades, potentially releasing harmful chemicals.
There is currently no system in place to try and recycle old solar panels. Therefore, the Japanese Environment Ministry says that by 2040, 770,000 tons of solar panels will be rubbish dumped.
The problem is the panels contain harmful substances such as lead and selenium, which could pollute the environment, officials said, according to the Japan Times.
READ MORE: China & Japan to lead global solar boom in 2015 - Bloomberg
Japan has witnessed a boom in the use of solar panels in recent years, following the Fukushima nuclear disaster. A recent Bloomberg survey said that Tokyo would install up to 12.7 gigawatts of solar power in 2015.
Solar panels generally have a life of 25 years before they have to be changed. The ministry is now warning that the need to dispose of them is "expected to increase at an accelerated pace in line with the growing popularity."
Japan would do well to learn from the experiences of the European Union in how to deal with solar panels that are past their use-by-date.
The EU guidelines, the Waste Electrical and Electronic Equipment (WEEE) directive, introduced 18 months ago, brought in a take-back and recycling scheme to deal with solar panel waste. The drive, called PV CYCLE, offers solutions on how to deal with the growing problem.
READ MORE: Solar could be world's top electricity source by 2050 – IEA
"Including PV (Photo Voltaic) modules in the enlarged scope of the recast WEEE Directive has simply created a mandatory framework for every PV actor putting PV modules on an EU market for the very first time," said Jan Clyncke, the managing director of PV CYCLE.
Clyncke also mentioned that the WEEE directive will mean solar panel producers will not only have to make sure they collect and recycle their products, which have reached their use-by date, but will also be obliged to guarantee the financial future of PV waste management.
"Making sure that those in the PV value-chain affected by WEEE could prepare in advance has been our main focus for the last months," he added, according to the website, Waste Management World.
Although the solar panel problem is not so bad at present, with only 2,400 tons expected to be dumped by the end of the fiscal year in March 2016, this amount will surge to 28,000 tons in 2030. By 2040, solar panels are expected to account for six percent of all waste in Japan.