Plague of Astrakhan: Locust swarm blots out the sun in Russian region (VIDEO)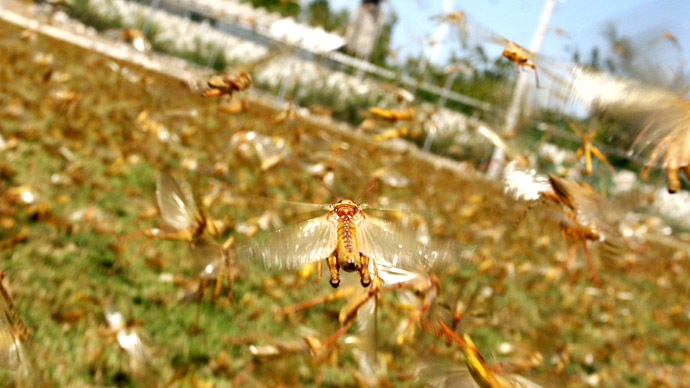 Near-Biblical scenes are emerging from the Astrakhan region in southern Russia, which has been invaded by giant swarms of locusts. Local authorities have scrambled vehicles and aircraft to combat the infestation.
The voracious insects are migrating dozens of kilometers every day, consuming crops as they go. Parts of the region have been put on high emergency alert.
Locust swarms appear in the area nearly every year, finding fertile breeding grounds on abandoned farmlands. This year, dry weather has created a superabundance of the creatures. The swarms include locusts of different ages, some only able to crawl and hop, others already on the wing.
Local authorities are using airborne crop-sprayers to spread insecticide over the affected areas. Flying sometimes as low as five or seven meters, the Antonov An-2 plane has managed to treat some 5,000 hectares with chemicals - out of a total of 29,000 hectares affected.
Local residents are doing what they can to combat the locusts as well. With hand-held or tractor-mounted spray gear, they stand in defense of their own fields and kitchen gardens. For many village-dwellers here, agriculture is the main livelihood, and the risk of being left without provisions for the winter is very real.
However, local authorities say they have enough manpower, equipment and chemicals to keep the infestation under control, local media report. One remaining threat, however, is that locusts, from neighboring Kazakhstan, Kalmykia and the Volgograd region, might want to drop by for a snack.
You can share this story on social media: