​WikiLeaks 'Saudi Cables': Gulf States were willing to pay $10bn for Mubarak's release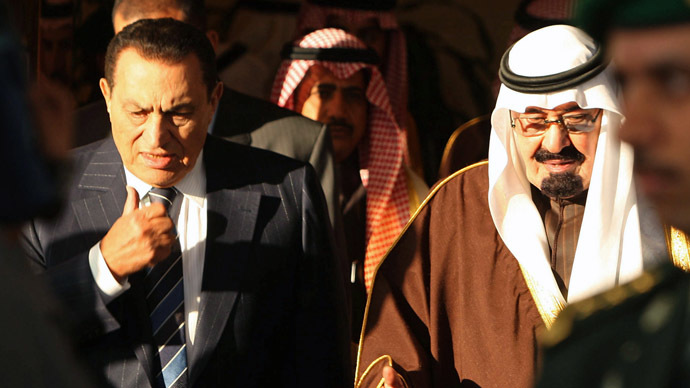 The Gulf States were willing to pay $10 billion for the release of deposed Egyptian President Mubarak, according to the so-called 'Saudi Cables' released by WikiLeaks. The whistleblowing site has published 60,000 top-secret documents from these cables.
An undated cable, labeled "top secret," quotes an unnamed Egyptian official saying the Muslim Brotherhood would agree to release Mubarak in exchange for $10 billion "since the Egyptian people will not benefit from his imprisonment."
However, a handwritten note on the document said that paying "ransom" for Mubarak was "not a good idea."
"Even if it is paid, the Muslim Brotherhood will not be able to do anything regarding releasing Mubarak," the note says. "It seems there are no alternatives for the president but to enter prison."
READ MORE: 'Erratic and secretive dictatorship': WikiLeaks releases thousands of 'top secret' govt docs
Although the document is undated, the political situation described in the text suggests it was written in 2012, when the Brotherhood was poised to come to power.
The note's existence supports a 2012 claim by senior Brotherhood leader Khairat el-Shater that Saudi Arabia had offered billions of dollars in return for Mubarak's freedom. Saudi officials denied the accusation at the time.
Mubarak was ousted during the Arab Spring of 2012-13. He was replaced by Muslim Brotherhood President Mohammed Morsi, who served from June 2012 to July 2013 before being expelled by the military.
'Checkbook diplomacy'
While the undated document details Saudi Arabia's alleged willingness to pay for Mubarak's release, others reveal the country's "checkbook diplomacy" tactics. A series of requests from other countries supports the view that Riyadh has long used its wealth to support those who align with its global perspective.
One of the cables shows that the Saudi Embassy in Beirut passed along a request from Lebanese politician Samir Geagea for cash to relieve his party's financial problems. The request stresses that Geagea had stood up for Saudi Arabia in media interviews, opposed Syrian President Bashar Assad, and shown "his preparedness to do whatever the kingdom asks of him."
How oil money being used to increase influence of Saudi - @wikileaks reveals top secret docs http://t.co/Eb0rsAFkcWpic.twitter.com/XV4o3TFf9d

— RT (@RT_com) June 23, 2015
Another politician from Lebanon begged for money to pay his bodyguards.
The state news agency of Guinea in West Africa asked for $2,000 "to solve many of the problems the agency is facing," and former Egyptian President Mohamed Morsi sought visas to take his family on a religious pilgrimage.
Yet another cable accused Qatar of stirring up trouble in Yemen by backing a rich politician with $250 million in support funds.
Media influence
The cables also show efforts by Riyadh to influence news coverage, both domestically and internationally.
One suggests that the government pressured an Arab provider to take an Iranian station off the air, with the foreign minister suggesting it use "technical means to lessen the Iranian broadcast strength."
And in a 2012 cable marked "top secret and urgent," King Abdullah told ministers about recent talks between the kingdom and Russia, regarding the Syria crisis. He asked ministers to "direct the media not to expose Russian personalities to avoid offending them so as not to harm the kingdom's interests."
'Clearly fabricated'
While WikiLeaks founder Julian Assange accuses Saudi Arabia of lifting "the lid on an increasingly erratic and secretive dictatorship," Saudi Arabia maintains it has "transparent policies."
In a statement carried by the official state news agency on Saturday, foreign ministry spokesman Osama Nugali acknowledged the cables were obtained through an electronic attack on the ministry.
He told Saudis not to "help the enemies of the homeland" by sharing the documents, adding that many were "clearly fabricated."
Nugali also warned that anyone who distributes the documents will be punished under the country's cybercrimes law.
WikiLeaks has every intention to continue publishing the cables, telling RT on Monday that this is "only one-tenth of the documents that we have, which will be released in the coming weeks."
You can share this story on social media: