'Real patriotism': World-famous pianist Lisitsa performs for people of Donbass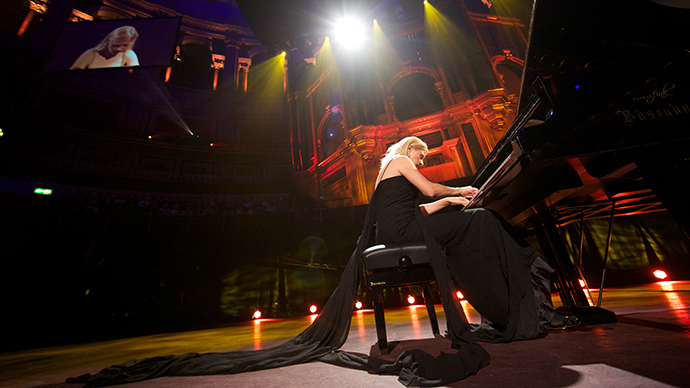 Renowned Ukrainian-born pianist Valentina Lisitsa has held a concern in Donetsk, as she continues her strong opposition to Kiev's military offensive in country's east, even after her views cost her performances with Toronto Symphony Orchestra.
Her concert to commemorate the 74th anniversary of the start of the Great Patriotic War was attended by more than 6,000 people. Speaking to "In the Now" with RT's senior political correspondent Anissa Naouai just before the start of the concert, the 41-year-old star called her performance "symbolic."
"It is a special day. It is a fantastic day for people to remember their dead, and to think of victory which once already achieved and now it repeats again," Lisitsa said, referring to her earlier statements on Twitter where she blamed Kiev government for resurrecting Nazi ideology in Ukraine.
Lisitsa gained public attention over her so-called "biased" political views in March, after Canada's Toronto Symphony Orchestra cancelled her performances after her social media posts condemning Kiev's military operation in eastern Ukraine.
READ MORE: 'I was to play Rachmaninoff, not preach politics' – fired pianist Valentina Lisitsa to RT
The pianist said once again the people of Donbass are fighting "the same Nazi ideology." According to Lisitsa, those who gathered to see her play are hoping "for a better future and happiness," as life in the destroyed city is trying to flourish.
"I saw what was happening here for a year in pictures, but nothing could possibly prepare me when I saw it with my own eyes," Lisitsa said of the destruction caused by the so-called anti-terrorist operation Kiev is conducting since last April.
"I saw bombed schools, bombed cultural centers," she told "In the Now", adding that she witnesses a "cannonade" when she arrived.
"But I also saw so many people in the streets, I saw children enjoying a wonderful summer day. I saw people in love walking holding hands on beautiful banks of the river."
The musician said she "wished" for American senators and Western politicians would come see the city with their own eyes to be able to understand "what real patriotism is about."
"Patriotism is a love for one's motherland. It is taking care of this land, taking care of this city, and not hate towards others."
Lisitsa said, that despite the destruction, she was "surprised" to see the beauty of the city, and the how "strong willed" people are. She said the people are "there to win" and secure the happiness they "deserve."
людей действительно было очень и очень много.. pic.twitter.com/mEfTSdDeLm

— Борисыч (@Borisich_glass) June 22, 2015
"They are determined to make their own future and not to have the future dictated to them at the great cost of human lives."
As a pianist, a renowned Kiev-born, US neutralized pianist, Lisitsa stormed the classical world of music in 2007, when she began posting her performances on YouTube. She now subscribed by almost 200,000 loyal fans, with her videos gathering tens of millions of views.
Meanwhile in Donetsk, thousands breathlessly watched her begin the concert with the works by Sergey Prokofiev, whose name used to carry the international airport of Donetsk before it was demolished in fierce battles.
In #Donetsk, a crowd of several thousand remembered heroes, and listened to breathtaking talent! @ValLisitsa#Donbasspic.twitter.com/Mh3DwaVaDA

— Graham W Phillips (@GrahamWP_UK) June 22, 2015
As part of the concert, Lisitsa included Sergei Rachmaninoff's Second Concerto that listeners of Toronto were denied after their "very aggressive and very vocal opposition local war lobby" to Lisitsa's views on Ukraine.
"So what music lovers lost in Toronto, music lovers in Donetsk will enjoy," she said.
Listsa says that she is a musician and not a politician, which is why she commends "trust", as she is not influenced by "material or economic reasons."
"I'm not a Moscow troll as some people tried to spin it," Lisitsa told Naouai. "My heart hearts for these people. This is my family, these are my friends. This is my land."
Lisitsa says that her message is to inspire people to think, not to become "passive consumers" of the news "fed" by the media. The pianist says that her massive following is getting her message, "particularly young people."
"Public opinion is changing towards understanding of what is happening here. It is changing slower than we think and hope, but it does."
You can share this story on social media: