'Pepper sprayed right into my eye': Police injure Ruptly producer at Berlin pro-migrant rally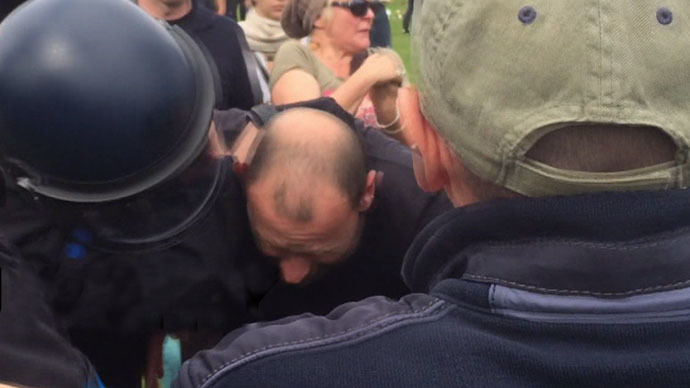 Ruptly producer Belal Awad says he was pepper sprayed "right in his eye" by German police during a rally in support of asylum seekers who are trying to enter the European Union to escape war and persecution in their home countries.
"I just popped my pepper spray cherry, I guess I was in their way," Awad wrote on Facebook, after the attack in Berlin.
Awad later told RT that the incident started when he saw one of the demonstrators being arrested by the police.
"The police [were] clearly agitated; others [I guess his friends] were just around the police and [were] asking to let him go. The police reacted completely unreasonably."
Awad said he went to the crowd with his phone "to film what was going on."
My face after being pepper sprayed by German police while trying to cover migrants protest #notagoodlook@RT_compic.twitter.com/9KJHZdByHr

— Belal Awad|بلال عواد (@Baloo1987) June 21, 2015
"I went in front of the police, at a distance. They started throwing and pushing the friends of the arrested guy and then one officer seemed to panic and sprayed the pepper spray right into my eye…and into the eyes of others."
He didn't manage to film what followed because of the pain in his eye, but mentioned that he saw the police push an elderly woman.
Just been pepper-sprayed by the police at rally for end to deadly EU policy on #migrants@politicalbeautypic.twitter.com/vSsUto2P04

— Belal Awad|بلال عواد (@Baloo1987) June 21, 2015
"There was an older woman who was trying to get them [police officers] to stop, talk [and] be reasonable. And they pushed her over."
READ MORE: 'Borders kill': Activists in Berlin dig 100 graves to highlight refugee crisis (PHOTOS)
Ruptly journalist @Baloo1987 got pepper sprayed by German police at march for migrants,video here https://t.co/xdFbrl8wAr

— Lizzie Phelan (@LizziePhelan) June 21, 2015
Some 5,000 activists in Berlin rallied in front of Reichstag and dug at least one hundred graves to express their solidarity with asylum seekers, who have died trying to reach Europe after fleeing war and persecution in their home countries.
Thousands in front of the German Bundestag dig symbolic graves to bring the migrant crisis home to EU policy makers pic.twitter.com/ESBtft8Q9V

— Belal Awad|بلال عواد (@Baloo1987) June 21, 2015
"#EU Kills", "stop deportation" #centreforpoliticalbeutypic.twitter.com/YzahO9k9kL

— Belal Awad|بلال عواد (@Baloo1987) June 21, 2015
The demonstration was accompanied by a police presence, who used pepper spray against some of the protesters, as well as making a few arrests for disturbing the peace.
READ MORE: 2 journalists attacked in Ferguson riots, police refuse to help