75% of Canadians have 'never heard of TPP' – poll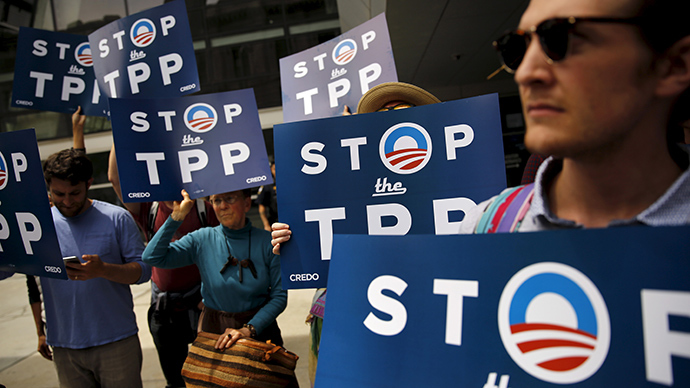 The majority of Canadians don't know that their government is negotiating with 11 other countries in one of the biggest international free trade deals known as the Trans-Pacific Partnership (TPP), a recent poll suggests.
The poll was conducted by the Environics Research Group for Trade Justice Network (TJN) has found that 75 percent of respondents have not heard of the TTP – a major deal which aims to link 40 percent of the world's economy.
Three out of four respondents said that they were concerned that Canada's participation in TPP is being negotiated in secret with no input, according to the poll. Eighty-three per cent of respondents were concerned that the deal could include a provision allowing multinational corporations to sue Canadian government under trade tribunals which would lead to a loss of profits, it said.
A total of 1,002 Canadians took part in the poll conducted by telephone June 3-12 according to TJN, which put the accuracy of the results within 3.2 percentage points - 19 times out of 20.
Along with Canada, 11 other countries including the US, Australia, Brunei, Canada, Chile, Japan, Malaysia, Mexico, New Zealand, Peru, Singapore, and Vietnam have taken part in TPP negotiations.
READ MORE: Wikileaks releases 'largest' trove of docs exposing secret TiSA trade deal
TJN spokesman Martin O'Hanlon said that the secrecy surrounding the negotiations is "very disturbing."
"Most Canadians have no idea that this deal is being negotiated in secret under the guidance of multinational corporations with no input from labor leaders, environmental experts or even MPs," O'Hanlon said in a statement this week. "It's frightening that this can happen in a democracy."
READ MORE: US House passes standalone fast track bill giving president more authority in TPP talks
He added that one of the most troubling things about Canada joining the deal is that the multinational corporations would have the power to override Canadian sovereignty and sue the government under secretive trade tribunals.
"This process effectively puts corporations above the law."
He stressed that the deal will put thousands of Canadian jobs under risk. "We support fair trade, but how can you have a fair trade deal with countries like Vietnam that pay workers 65 cents an hour and have no real health, safety, labour or environmental regulations?"
The TPP aims to terminate tariff and non-tariff barriers to trade and boost the economies of its member nations. The negotiators also seek to impose new rules regarding environmental protection, working conditions, and intellectual property rights.
However, the deal has been criticized for its lack of transparency in addition to other issues, such as currency manipulation, internet privacy, and transparency.